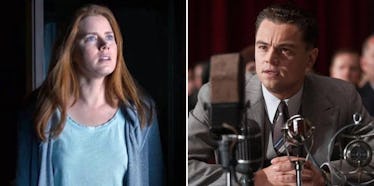 Amy Adams' Oscar Snub Officially Makes Her The New Leonardo DiCaprio
Paramount Pictures / Warner Bros
The year is 2017 and Amy Adams is nowhere close to getting an Oscar.
The acclaimed 42-year-old actress has won two Golden Globes, four Critics Choice Awards, been nominated for five Academy Awards and six BAFTA Awards — but didn't even make it to the list of potentials in this year's Oscar nominations.
Despite her sci-fi drama "Arrival" getting eight nods — including Best Picture, Best Director and Best Adapted Screenplay — Amy's name was nowhere to be found under Best Actress.
Um... WTF, Academy?
If you didn't see the movie, well, you should. It's pretty solid alien movie.
And if you did see it, you know Amy's performance in the film is, like, 70 percent of what makes it so good.
In other words, this is a huge freakin' snub. And in light of this snub, I think we can make it official: Amy Adams is the new Leonardo DiCaprio.
Here's the proof.
Amy has been chasing that Oscar for over a decade now, ever since her Supporting Actress nomination for"Junebug" in 2005.
Since then, she has been nominated for three other Supporting Actress roles — "Doubt," "The Fighter" and "The Master" — and one Best Actress role, for "American Hustle."
That's five nominations and five losses, just like Leo.
Leo's first nomination was in 1994, for Supporting Actor in "What's Eating Gilbert Grape."
He was then nominated for Best Actor for "The Aviator," "Blood Diamond" and "The Wolf of Wall Street." (He also got an additional Best Picture nom as a producer on "Wolf of Wall Street.")
He finally got his Oscar on his sixth nomination last year for "The Revenant."
Like Leo before her, Amy has been deliberately choosing films with Oscar potential.
As MTV News points out, Amy really, really wants this Oscar, and homegirl has been going for it.
Last year it was "American Hustle," directed by David O. Russell, who is reportedly hard to work wit but is beloved by the Academy.
This year it was both "Arrival" and "Nocturnal Animals," a film that got some early award buzz, but only ended up with one nomination for Supporting Actor (Michael Shannon).
For Leo, the big Oscar try that launched the Leonardo DiCaprio's Oscar meme was "J. Edgar." Like Amy, Leo wasn't even nominated for that role.
Then he tried it again with "The Wolf of Wall Street" in 2014, which got him a nomination, but no win.
Only after enduring freezing temperatures, difficult stunts and a really gross beard, did Leo finally get his Oscar.
So does this mean Amy needs to roll around in the frozen tundra to finally break the curse, too?
Honestly, maybe.
The good news for Amy is: After over 20 years, it finally did happen to Leo. So have faith, Amy.
Of course, it doesn't help Amy's window of opportunity is shrinking much rapidly than Leo's did, thanks to that pesky gender thing.
Hopefully the Academy will wake up and recognize this talent before Amy's officially deemed A Woman Too Old To Look At by Hollywood standards.
Citations: AMY ADAMS IS THE NEW LEONARDO DICAPRIO (MTV)