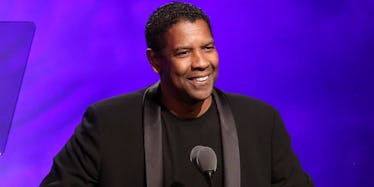 Black Actors Finally Get Noms In Every Oscars Category And It's About Time
REUTERS
We're still living in a world where things are happening for the very first time -- even things that should have happened countless years ago.
For the first time in Oscars history, a black actor has been nominated in every single acting category in existence.
This comes after the Academy Awards went two consecutive years without nominating a black actor in any of its acting categories.
The 89th Academy Awards is sure to be one to remember as a black actor was nominated for Best Actor, Best Actress, Best Supporting Actor and Best Supporting Actress for the first time.
Back in 2013, there were just three nominations in three categories. That was the last time black actors came close to being represented in each one.
That's certainly not the case this time around as actors and actresses like Viola Davis, Denzel Washington, Naomie Harris, Octavia Spencer, Mahershala Ali and more have been nominated for an Oscar.
Davis is the first black actress to be nominated for three Oscar awards.
But wait, it gets better...
For the first time since Margaret Avery and Oprah Winfrey were both nominated in the same category for 1985's "The Color Purple," black actresses Spencer, Davis and Harris will all be nominated for Best Supporting Actress.
Yeah, I know what you're thinking -- it's been far too long!
Oscar nominee Mahershala Ali recently spoke to Entertainment Tonight about diversity potentially becoming a staple in the Academy nominations, saying,
I would love to see people of color continue to get opportunities and have opportunities to do projects that are action blockbusters as well as being a part of projects that are art house and indie or projects that in some way find themselves around and in the conversation every awards season. We want to exist in all platforms and we want to see diversity and see people being included on every level. I hope that this is a real beginning for that.
You know, if this continues there should probably be an entire awards ceremony dedicated to all of the black actors who were snubbed over the years.
I'm sure you'd agree director Ava DuVernay, who earned an Oscar nomination for "13th," certainly deserved a nomination for 2014's "Selma" despite the fact she wasn't granted one.
Still, she's remained level-headed. When asked about the #OscarsSoWhite controversy, DuVernay stated,
They're going to pick who they're going to pick. They're going to do what they want to do. We're going make our movies regardless and it's all good.
Do you hear that, Hollywood?!
Citations: Black Actors Nominated in Every Acting Category for First Time in Oscar History (Entertainment Tonight)