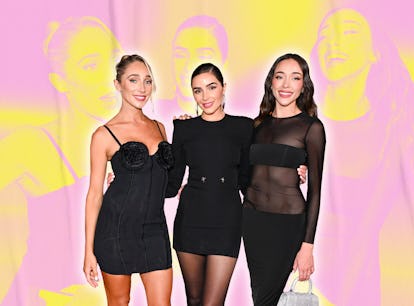 Olivia, Sophia, & Aurora On The Culpo Sisters & Social Media Hate
"When something bad happens to one of us, we all suffer."
It's been a year of big changes for Olivia, Sophia, and Aurora Culpo — and fans have gotten to see some of the highs and lows unfold on TLC's reality show The Culpo Sisters. "Nothing is off limits," Sophia, 26, tells Elite Daily in an exclusive interview alongside her elder sisters at the JBL Authentics speaker launch party in Las Vegas.
While the fate of The Culpo Sisters Season 2 is still up in the air, a lot of things have changed since Season 1's December 2022 finale. For one, Olivia, 31, got engaged to her longtime boyfriend, Christian McCaffrey, in April. On a different note, Sophia moved to LA to be closer to her two older sisters after her breakup with the Miami Dolphins' Braxton Berrios — and it seems like the sisters' bond has only deepened.
The sisters spent much of the past summer together at their family home in Rhode Island, and Olivia quips that they couldn't be any closer at this point. While their bond might be next-level — giggling, Sophia admits they had "conjoining rooms" — it also comes with the inevitable Kardashian sister-esque sibling drama, with their disagreements and make-ups playing out on TV.
"We get in really big fights where we want to kill each other, and then that bond just gets tighter," Sophia shares. "When I tell you there's no separation — there's not." On the flip side, this closeness makes it easier for the sisters to support and lean on each other while navigating "ruthless" life in the limelight and on social media. (Apparently, Aurora, 34, leans into her protective big sis role by "fighting every troll in the comments.")
"A win for one of us is a win for all of us, but when something bad happens to one of us, we all suffer," Olivia adds. Below, the Culpo sisters share how they decide what to share online, their hack for dealing with mean comments, and how they lean on each other to navigate social media negativity.
Elite Daily: You spent a lot of time together at home this summer. What's your favorite memory?
Aurora Culpo: I'd say in general when we were all at our parents' beach house, but Olivia's engagement party was definitely the highlight. That was so fun. We had a really big white party at our parents' farm. I think anytime we're together back home is really fun because we kind of slip back into kid mode.
ED: How does it feel getting to go to events and experience music festivals, travel, and other memories together as sisters?
Aurora: Anytime you're with people from your roots, it's very grounding. For every experience, it's way easier to show up authentically because you don't feel like you have to put on any sort of a facade. It's safe, but also, you're kind of on your best behavior because you can't get away with anything and you always have someone to check you and tell you if you're being out of line.
ED: Being on a reality TV show together and also on social media, how do you decide what you share publicly and what you keep from the public eye?
Sophia Culpo: We don't, as simple as that.
Aurora: With me at least, it's my kids. I have to be the most conscientious since they're getting a little bit older and the internet is forever. You never want to put something up that someone's maybe going to bring up in third grade, and then they're going to be embarrassed. So I'm a little bit more careful about what I show in that regard.
And then you never want to say anything bad about somebody else. We try to speak our own truth and stay in our own lane without throwing anybody else under the bus.
ED: How do you deal with negative speculation or mean comments on social media?
Olivia Culpo: We'll usually screenshot and send it to each other, and then just let the other sister make us feel better. As a rule of thumb, we remind each other not to go down a rabbit hole of reading comments. It takes a lot of mental fortitude not to read them. But if you're not prepared to take the backlash that you get from putting yourself out there, then you probably shouldn't do it in the first place.
We know that by being vulnerable, we're taking that risk. But some days are easier than others. You have to know the days that are going to be harder for you and lean on each other in the ways that you know will work.
Sophia: I deal by living presently. Because the internet is a difficult space, the people that you're with are really important. And also just focusing on the positive comments. We usually get at least three or four positive comments for every negative comment, so just knowing that you're helping one other person not feel alone and that they see themselves in your story makes it worth it for the negative comments.
This interview has been edited and condensed for clarity.