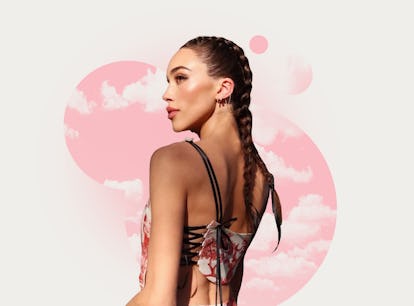 Sophia Culpo's Social Media Habits Are Not What You'd Expect
After a recent "big transition," the content creator is steering clear of the internet.
Elite Daily; Courtesy of Sophia Culpo
We may receive a portion of sales if you purchase a product through a link in this article.
Sophia Culpo is prioritizing herself, both body and mind. On top of her modeling and content creation career, the 26-year-old also stars in TLC's reality show The Culpo Sisters, alongside two of her elder siblings, Aurora and Olivia. So, naturally, you'd expect to find her living her best life among the influencers you see scattered across your For You page. Yet Culpo's self-care routine actually pulls her in a totally different direction; one that encourages her to step away from the platforms that keep her in the public eye, and keeps her focused on her physical and mental health.
"Social media is odd for me," Culpo tells Elite Daily. "I don't really use it in the way that other people do, especially when it comes to TikTok. The trends, I'm like, 'What trends?' I feel like I'm 80 years old." And after a recent "big transition" in her personal life — which includes moving out of the home she shared with ex-boyfriend Braxton Berrios — she's even more inclined to turn off her phone to avoid seeing things that are going to harm her headspace. "You've really got to protect your energy, and the internet is a lot."
Now, after receiving advice from big sister Olivia's fiancé, San Francisco 49er Christian McCaffrey, the Boston University alum — who graduated with a degree in nutrition — is on a new wellness journey, with the help of scientific wellness brand Thorne. Below, she gets candid about the journey, including how she manages stress when the cameras aren't rolling, what it's like moving back to Los Angeles, plus why filming with her siblings "was not rainbows and butterflies."
This interview has been edited and condensed for clarity.
Elite Daily: Tell me a little about your wellness journey.
Sophia Culpo: I had headaches as a little girl; they continued on into high school, and I just had really bad migraines. Then in college, I started dealing with autoimmune, IBS, and gut health issues that I really couldn't pinpoint what the cause was. When lockdown happened, I was getting a lot of advice from my soon-to-be brother-in-law. He introduced me to Thorne. I thought, "Well, if you're taking Thorne as an athlete, I know it's got to be a great company, but let me look into it."
It took a long time, but I'm really happy and grateful that I have healed those original issues. Now I really work on maintaining a healthy nervous system and immune system. For instance, I start the day with Thorne's Stress-B Complex, which is meant to help manage stress in a natural way, using a complex of B vitamins.
ED: When you don't have your supplements readily available, how do you manage stress?
SC: Remembering to breathe. A lot of times when you first get anxious, your body goes into fight-or-flight mode, so your adrenaline's pumping. Also, putting your hand on your heart and on your stomach and feeling your chest go in and out. It's like body awareness; it takes you out of this feeling of being out of control and it really grounds you.
ED: With all the stress of constantly being in front of the camera, how do you practice self-care when you have free time?
SC: I'm definitely big on preparation. I think it's more of a mental thing to know you have all the tools that you need. Then you can go in front of these cameras and just feel confident. Olivia and I were just joking about how we got in a huge fight on set for a really big cover shoot for our show. I was in my trailer hysterically crying in front of my mom, my manager, production... They were all feeling for me, but they're like, "Please don't mess up your makeup because we don't have time to redo it." Believe me, it was not rainbows and butterflies.
I also used to be extremely shy, so it's something I really had to coach myself through.
ED: What about your sisters?
SC: We're all sensitive, but I'm the one who wears my heart on my sleeve a little bit more. I think that comes with being the youngest; I'm used to being a little bit of the punching bag. But as I've gotten older, I really have become more confident in myself, feeling more entitled to my own thoughts and opinions.
ED: Do you share skin care with your sisters?
SC: None of us are great sharers, but at this point in our careers, we are so lucky to have so much access to so many products, so we do share a lot now. We learn a lot from one another, too. I learned everything from my older sisters. I would sit in the bathroom and just watch them do stuff.
ED: What are your favorite skin care products currently?
SC: Dr. Loretta's Intense Replenishing Serum is my go-to repeat buy; it's super hydrating. I also love Peter Thomas Roth's under-eye masks, Dr. Dennis Gross' peel pads; I also do the Rhode peptide lip treatment.
Sophia Culpo's Favorite Skin Care Products
ED: Walk me through your typical morning routine.
SC: I just moved, so I've really been trying to get out and walk in the morning. I'm really trying to be more disciplined with journaling before I leave the house. But sometimes I'm like, "Oh, I want to check my email." Then I'll get a little distracted and end up not getting to it. I've been trying not to touch my phone until I've done my morning journal.
ED: What do you usually write about?
SC: I'll just journal whatever's on my mind if I'm feeling anxious about anything. I do this thing called a dwell spell — if there's something that's bothering you, you can allow yourself X amount of minutes per day to think about it, and every day you have to reduce that time. If you catch yourself thinking about it, you say no. Save it for later during your dwell spell. Or if you already had your dwell spell, you can't think about it until tomorrow.
ED: That's so fascinating. What about your nighttime routine?
SC: I have a mantra of the week and I'll write it 10 to 12 times in my journal and then go to bed. It's the last thing that I have to do. It has to be after my phone is away.
ED: What is your go-to fitness regimen right now?
SC: My workout routine has changed a lot over the last two years. I used to force myself to run. I hate running; I did track and cross-country my whole life. What I love now is Pilates. I love using small muscle groups that, when you get out of a Pilates class, half the time you're like, "I didn't even know I had a muscle there." I love challenging my body in a new way.
ED: I saw some footage of moving day on your Instagram stories. What was that experience like?
SC: I actually moved from multiple different places, so I had to coordinate a move from three different locations. It was a really quick change in my life. I wasn't planning on moving, I'll just say that. Now that it's settled and I have all of my things in one house, it is really nice to have all my things in one spot. It's my spot, it's not where someone else works, it's not where someone else lives. I'm very grateful to be living under my roof right now.
ED: How has being back in California and being closer to family impacted your mental health?
SC: I didn't realize how isolated and lonely I felt when I wasn't here. It was one of those things where I was just maybe not addressing it and pushing it out. But I'm a family girl. It's really nice to be back and be near my nieces, nephews, sisters, and friends that I have here.
ED: What's the vibe of your new space?
SC: I have great natural light in my new spot, so it's bright. The walls are white, the floors are a beautiful pale light wood. I've been trying to do a lot of Rattan pieces, furniture-wise. White linen bedding. I have a big matte black mirror. It's trying to be very neutral and calm. I want to walk into my room and have it feel Zen.
ED: You spend a lot of your time for your career on social media. Does that ever make it difficult for you to enjoy social media outside of work?
SC: There are so many trends to keep up with. I need to be better at using TikTok as a viewer, as a consumer. It's like, if your business is social media, it's just a totally different ballgame. I'm tracking analytics over here versus people who are like, "I love TikTok," and I'm like, "I've got to learn how to do both."
ED: Do you ever have to set limits of time when you don't look at your phone?
SC: Yeah. I think you need to control what you put in your view and what's going to form your thoughts. My life's gone through a big transition recently, so I'm staying off social media and just not seeing things that are going to harm my progress and harm my healthy space. You've got to be mindful of what you're putting in front of yourself.