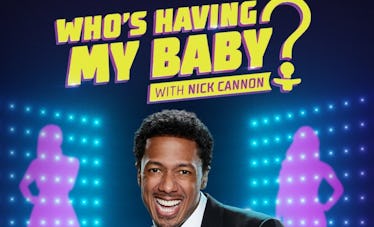 So Is Nick Cannon's Who's Having My Baby Real? All About The Show
The trailer def got some attention.
E!
In this day and age, Nick Cannon is best known for two things: hosting game shows and having babies. So there was some sense in combining his two talents, even if the concept of a game show where Cannon picks out the next woman he'll impregnate from a roster of contestants feels absolutely bonkers. If the Who's Having My Baby trailer seemed too wild to be real to you, you'd be right. Here's the truth behind the viral trailer that has all of social media talking.
Cannon dropped a bombshell on March 7, posting the trailer for an upcoming E! reality competition series called Who's Having My Baby. In the preview clip, host Kevin Hart invites Cannon onto a stage where he meets a group of women competing to be the mother of the actor's next child. Cannon teased that the show will be premiering this spring on E!, but in actuality, Who's Having My Baby is nothing more than a comedy sketch, which will be part of an upcoming Kevin Hart project, per Variety. So no, Cannon is thankfully not going to be using a game show to have more babies.
The fact that the sketch fooled so many people online is a testament to Cannon's well-known fertility. Cannon has had 12 children in total with six different women. Mariah Carey is the mother of twins Monroe and Moroccan; Brittany Bell is the mother of Golden, Powerful, and Rise; Abby De La Rosa is the mother of Zion, Zillionaire, and Beautiful; Bre Tiesi is the mother of Legendary; LaNisha Cole is the mother of Onyx; and Alyssa Scott is the mother of Zen and Halo. Zen died of cancer in December 2021.
Cannon has poked fun at all the public attention around his ever-growing brood of children several times, but this fake game show may be his biggest gag yet.
A day after the Who's Having My Baby prank, Cannon revealed what mysterious project it was for. The sketch is part of Hart and Cannon's new E! show Celebrity Prank Wars.
The new show premieres April 6 on E!.