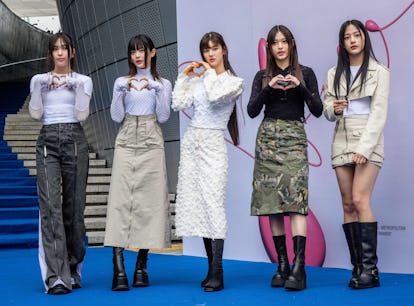 Move Aside "OMG," NewJeans Has A New TikTok Dance On The Rise
"Super Shy," you'll always be famous.
ANTHONY WALLACE/AFP/Getty Images
K-pop's newest darlings are back. It's been nearly a year since NewJeans altered their fans' (known as Bunnies) brain chemistry with their debut EP. The record pulses with a nostalgic groove that's reminiscent of a TRL countdown, and that sound has garnered them some well-deserved attention. Now, NewJeans are looking to build upon that hype with their upcoming EP, Get Up. After weeks of releasing teasers, the girl group dropped a music video for their new single "Super Shy." And in their signature sharp flare, the track's choreography has TikTok in a chokehold.
The video, which premiered on July 6, is a technicolored dream. It's almost as if NewJeans — comprised of members Minji, Hanni, Danielle, Haerin, and Hyein — transported to a animated universe, where rainbow hues shine at a level that's almost unreal. In the visual, Danielle meets up with the group in the park and tells them there's a flash mob nearby. As they run over to the growing crowd, the synthy opener on "Super Shy" flurries in.
While the track's glitchy verses are a mood, the real highlight is the chorus. There, the members bashfully sing about coming clean to their crush over a Jersey Club-inspired rhythm. "I'm super shy, super shy / But wait a minute while I make you mine, make you mine / I'm all nervous 'cause you're on my mind all the time / I wanna tell you but I'm super shy, super shy."
The chorus also paves way for NewJeans' current dance challenge on TikTok. Like most of the group's choreography (especially for their former TikTok dance gem "OMG,") the moves in "Super Shy" relies on sharp poses and impressive footwork. Their uniformed intricacy is so awe-inducing, yet gives off this illusion that the choreography would be easy to nail in one sweep. That can also be seen in the participants of the challenge, which includes K-pop singers Eunbi, Jihyun, and former MOMOLAND member Daisy.
That's not all, though. The same day, NewJeans dropped a music video for their self-titled track. This release feels like a modern tribute to UK Garage (think Craig David's "Fill Me In") with traces of techno-pop, and its quite an infectious hit. The track introduces the group as "so fresh, so clean" icons that are looking to dominate the world, eerily similar to a vibrant, cartoon trio from the early 2000s. It quickly becomes clear NewJeans are referencing The Powerpuff Girls in their sonic mission, and even reimagine themselves as the wide-eyed superheroes at the end of the clip.
According to their label ADOR, Get Up will feature six new songs: "ETA," "Cool With You," "Get Up," "ASAP, " and the aforementioned "Super Shy" and "New Jeans." Similar to their debut, a music video will accompany each song. And by the looks of the visuals released so far, this era looks promising.
Here's everything to know about NewJeans' thrilling comeback.
Get Up Release Date
NewJeans' forthcoming EP will release on July 21, 2023.
Pre-Order Information For Get Up
According to NewJeans' comeback announcement on Instagram, a pre-order link for Get Up will be available on June 19 at 11 a.m. KST.
Get Up Tracklist
In a press release, ADOR revealed Get Up will feature six songs in an A and B-side format. The A portion (three lead tracks) will kick off the EP while the B-side will close out. It's not yet clear if the latter tracks will adopt slower arrangements, similar to the B-side gem from their debut release, "Hurt."
Check out the full tracklist below.
"Super Shy"
"ETA"
"Cool With You"
"New Jeans"
"Get Up"
"ASAP"
Get Up Music Videos & Teasers
So far, NewJeans has shared one conceptual teaser and two music videos for this new era.
"ASAP"
On June 26, NewJeans shared a brief teaser for "ASAP" on Twitter. Set in the woods, each member retired their vibrant Y2K flare (think Diesel-belted jeans, layered jewelry, and baby tees with cheeky slogans on them) for a pastel, fairycore makeover. In one ethereal shot, the group wears all-white while posed on a sheer blanket in the forest. Their signature dark hair is lightened to blonde, which gives their floral beaded crowns room to shine.
As different clips appear in the teaser, a whimsical beat plays in the background. A glitchy 'tic-tic' effect flurries in half-way through the video, before a voice (which sounds like Haerin) coos, "A-S-A-P, baby / Hurry up don't be lazy." This production might sound familiar to Bunnies, as NewJeans used this instrumental to announce their new EP on Instagram.
"New Jeans"
On July 6, NewJeans released a music video for their self-titled track and "Super Shy."
This article was originally published on