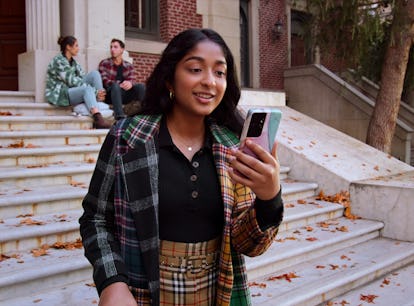 A Tiny Detail In The Never Have I Ever Finale Has Fans Convinced About A Spinoff
Netflix
Never Have I Ever's finale may not have been as final as viewers initially expected. Or, at least, that's how fans are interpreting one key detail in the show's last moments. While the fourth and final season put a bow on Devi and her friends' high school misadventures, it may have also subtly opened the door to a new show about her college life. Or maybe a series centering another fan-favorite character is in the works. Whatever the case, Never Have I Ever fans are convinced the finale is setting up some sort of spinoff or movie to continue the story. And the reason why is just two words uttered in the last episode.
Spoiler alert: This post discusses the events of the Never Have I Ever series finale. All the spinoff speculation is coming from the last words spoken in the series. As Devi and Ben settle into their new relationship as they prepare to start college at Princeton and Columbia, respectively, narrator John McEnroe's farewell grabbed viewers' attention. "This is John McEnroe live from Princeton, New Jersey, signing off," he said, before adding two very important words: "For now."
That "for now" immediately became an obsession among fans, who theorized it must be teasing some sort of continuation for Never Have I Ever.
Of course, the fandom has been erupting with spinoff ideas, ranging from shows centering other major characters to a movie that'd provide an update on everyone's post-series journey. But the most prominent spinoff wish is for a new show that follows Devi at Princeton. As several fans have pointed out, a spinoff about Devi's college life would have the added bonus of some fun crossover potential with fellow Mindy Kaling-created show, The Sex Lives of College Girls. Princeton isn't too far from Essex College's Vermont campus, after all.
There's also a lot of potential in switching the focus to other member's of Devi's crew in a possible spinoff, like following Paxton's new resolve to get his teaching degree, or Kamala's fancy new lab job. One character that's gotten a lot of spinoff hype is Trent, who set out to take over Hollywood with his girlfriend Eleanor at the end of the series. Both Kaling and Maitreyi Ramakrishnan have gushed about Trent when asked about spinoff ideas, and Benjamin Norris himself has said he wants to continue exploring Trent and Eleanor's relationship in a spinoff.
Never Have I Ever fans are swimming in a world of possibilities after that finale, and it's all because of two little words.