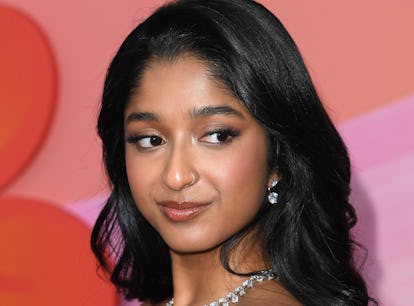 Maitreyi Ramakrishnan Finally Reveals If She's Team Ben Or Team Paxton
If only Devi could be this decisive.
Steve Granitz/FilmMagic/Getty Images
Devi may have trouble choosing between her enemy-turned-lover Ben and her longtime hunky crush Paxton, but Maitreyi Ramakrishnan's mind is made up. The Never Have I Ever star has always avoided giving a definitive answer to the show's central question, but now that the final season is out, she's ready to make her true feelings about the love triangle known. That's right — Ramakrishnan is finally revealing if she's Team Ben or Team Paxton, and her choice may divide the fandom.
Ever since Never Have I Ever began, viewers have been split between Devi's two main love interests. Some fans wholeheartedly believe Devi's academic rival Ben is her one true soulmate, while others hold out hope that as Devi continues to discover caring and romantic new layers beneath Paxton's hot jock exterior, she'll realize he really is the one for her. Over the past three years, Ramakrishnan has been asked who she wants Devi to end up with in pretty much every interview, and she's always maintained the same centrist answer: She's on Team Devi. That was all well and good for a while, but with the show coming to an end, Ramakrishnan is finally ready to get real about her preference.
"I want to make the record straight once and for all. I am Team Ben," Ramakrishnan tells Elite Daily. "Paxton was great. Everyone needs a Paxton, but then you end up with a Ben. I said what I said."
"Ben and Devi are so similar. They get along so well," Ramakrishnan continues. "And people can say like, 'Oh, I don't want someone similar to me, that's too gross.' But you need someone that you have goals in common with, like how they're both super academically involved together and have similar ambitions. Their style of conversation is very similar, and as someone who talks a lot, I want a relationship where I can talk to that person about things and they get it right away."
Of course, Ramakrishnan's response will be disappointing for all the Team Paxton devotees in the fandom. But she doesn't think her Team Ben reveal will come as a huge surprise to those who've been paying attention. "Team Paxton fans, I love you guys so much, and I'd like to say to both Team Ben and Team Paxton that I think both of them know me very well and they know my shenanigans," Ramakrishnan says. "I don't think they're going to be surprised. I think they're going to know. I think they know me and they know my personality and they're going to be like, 'Yep, that's Maitreyi.'"
Spoiler alert: Don't read on if you haven't yet watched the Never Have I Ever series finale.
Of course, the reason Ramakrishnan feels so free to finally let her Team Ben flag fly is because of how Never Have I Ever ultimately ends. After a roller-coaster senior year, Ben finally realized he loves Devi and flew back from his internship in New York to profess his feelings for her. And while the future looks bright for Benvi, there's still an obstacle in their way as the series ends. Devi is at Princeton, while her boyfriend Ben is a couple of hours away at Columbia.
Jaren Lewison tells Elite Daily that he does think that semi-long distance could present problems for Ben and Devi. "The romantic in me would like to say 'They're soulmates; they're destined for each other. No matter what, they have this magnetism and they'll always find each other.' And I think that in a certain sense that that's true. But I also know firsthand how hard distance can be, especially when you're young and in college," Lewison says.
"I don't know if they're able to stay together," Lewison admits. "I mean, they're in the same time zone, and couples can do it. Some couples can't. I don't know which one they are necessarily. I would like to believe that it's possible, but the odds are stacked against them. But who are Ben and Devi if not people who defy the odds? So, you never know, right?"
While the future may be a bit murky for Devi and Ben, the present is clear as day. Team Ben, enjoy your win. Ramakrishnan is celebrating right along with you.