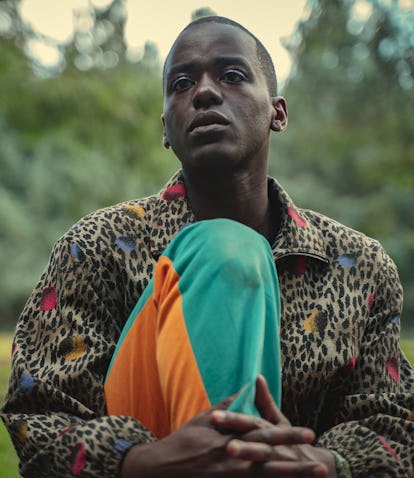 Ncuti Gatwa Shut Down Sex Education Producers Who Wanted Eric To Cater To White Viewers
"I was like, 'It's not for white people to understand.'"
Netflix
Eric Effiong has become one of the most beloved characters in modern TV, and that's thanks to the quick wit, magnetic charm, and deep emotion that Ncuti Gatwa brought to the Sex Education role. But it wasn't always an easy journey for Gatwa to bring Eric to life. He revealed that back when he was filming the first season, producers would ask him to change some of his improvised lines to cater to a white audience. Gatwa had to fight back to make sure Eric was authentic representation for Black and African communities.
Gatwa shared this revelation in his June 13 British Vogue profile. "There were producers coming up to me like, 'This ad-lib, I don't feel like white people will understand it,'" Gatwa said. "And I was like, 'It's not for white people to understand. There are many white people in this show for white people to understand, but I want this other group of people to understand Eric. And that's what you want too.' And they got that. We were all constantly learning on that job."
The anecdote comes ahead of Eric's big farewell in Sex Education Season 4. Gatwa, along with several of his co-stars, confirmed he was leaving the Netflix series shortly after filming wrapped earlier in 2023. The news has sparked a lot of speculation that Season 4 may be the show's last, but Netflix has yet to confirm if that's the case or not.
Whether Sex Education continues on or not, Eric will be getting his perfect final moment in the upcoming season, with Gatwa describing it as "the ending I wanted for him." Gatwa also got to write his own scene for Eric in the new season, something he'd never done before. "There was one scene that I particularly fought for, and I managed to get it in, which was great," he said. "Aimee [Lee Wood] and I wrote it, and we were redrafting it until like 3 a.m. the day before. I've never written for Eric before so that felt big, and it was a scene that meant a lot to me in terms of Eric's journey and relationships. It felt very necessary."
There's no release date yet for Sex Education Season 4, but it's expected to drop before the end of 2023, given that filming wrapped back in February.