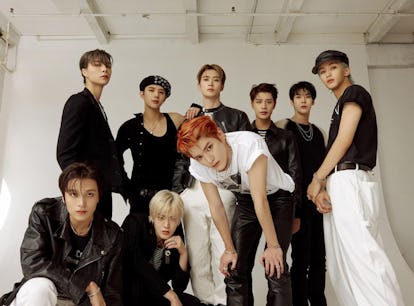 NCT 127's New Single "Ay-Yo" Is The Ultimate Pump-Up Song
The lyrics are so inspirational.
SM Entertainment
NCT 127's new single "Ay-Yo" is the definition of a pump-up song. The hip-hop track, which is featured on the group's new album of the same name, is all about finding the strength. "Just like the heroes in the myths, the show must go on," NCT 127 sings during the track. Next time you're in need of a pick-me-up, just listen to "Ay-Yo" because its lyrics will have you ready to take on the world.
The feel-good song dropped on Jan. 30 alongside NCT 127's latest album Ay-Yo, which is a repackaged version of their fourth studio record, 2 Baddies. The project debuted at No. 3 on the Billboard 200 following its release in September 2022. Now, four months after initially sharing the album, NCT 127 has dropped a longer version of the record featuring three new songs: "Ay-Yo," "DJ," and "Skyscraper."
"Ay-Yo" gets the album off to a strong start with its infectious beat and motivational lyrics. According to a press release, the "core message" behind the song is about "moving forward with intention in the midst of uncertainty." To go along with their latest single, NCT 127 dropped a music video for "Ay-Yo" that shows the members performing their track's hard-hitting choreography.
If you want to know more about the meaning behind "Ay-Yo," NCT 127 uses the song's lyrics to tell a story about overcoming adversity. The group begins the track by seemingly comparing their struggles to a "storm."
Ay-Yo! Look/ Things will never be the same, like/ Are you ready? (Woo!)/ The storm of paradigm comes crashing (Ha!)/ In the warning (Yeah!)/ A sudden twist for immortal beings/ It's up to you, what you wanna do?
During the pre-chorus, the members sing about mustering up the courage to face their problems head-on.
(Whoa) How we do that? How we do that?/ Clock is ticking, how we do that?/ We gotta last/ In the scenario that's bigger than the stage (Oh)/ The show must go on/ Rumble by your instincts (Oh, oh)/ Catching every eye/ What you keep tryin' to reason out?/ Feel it, no doubt
The group exudes confidence in their song's chorus by using the phrase "Ay-Yo" as a motivational phrase to help them through times of doubt.
Just say it out loud, 'Ay-Yo!'/ Do it like us, this is Valhalla/ Haters, lay low/ I be enjoying/ So who gon' beat me? Ay-Yo!/ In the end, I make my way/ Leaving behind nothing, not even ashes/ Ballin' big time and I say 'Ay-Yo!'
NCT 127 also describes their newfound passion during the first verse.
Each step on impact is a tide of rage, yeah/ Thirsting for faith, shattered doctrine/ Perfect stranger, calling on the sheep/ Sick of the games, you're craving for a change up/ The weight of invisible values/ Just watch, I got the plan
Whenever they begin to lose hope, NCT 127 remembers that they're not alone.
Are you ready? (Hoo!)/ In the sun of an uncertain tomorrow (Ha!)/ A shooting star (Yeah!)/ Shimmers and blinks out/ But even in that moment, I have you
The group continues to encourage listeners to put their worries behind them during their song's bridge.
Hey, I see you/ Put down all the worries in your mind/ My attention's on you, babe/ Tell me, babe/ We can go all night long/ All night long
NCT 127 also says that no matter how hard things seem, tomorrow offers the chance for a fresh start.
The plain blue night is coming/ Covering up everything/ Close your eyes/ But don't ever fall asleep (Woo!)/ 'What you got in your hand? Where you goin'?' They ask (Yeah)/ Come try me/ I pass through the wormhole/ Dawn will break (Yeah/ Don't kill your desire, don't overthink it
See the full English translation of "Ay-Yo" on Genius.