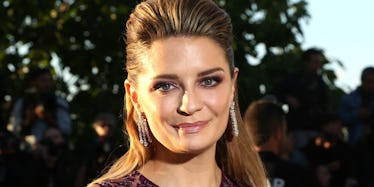 Mischa Barton Speaks Out After Being Slammed For Insensitive Instagram
REX/Shutterstock
Mischa Barton is kind of, sort of sorry about that picture she posted of herself on Instagram as a tribute to Alton Sterling.
On Friday the "OC" actress apologized on Twitter, saying her Instagram post "went out of context."
Tensions were high following the death of Alton Sterling, the 37-year-old black man who was shot and killed while being held down by police officers in Baton Rouge.
The world was grieving for yet another innocent black man murdered, and angry about the rampant racism in our law enforcement.
Which explains why no one was really in the mood for Mischa Barton to post a photo of herself looking sad on a boat as her contribution to the cause.
People were angry at Mischa, saying the actress had taken the tragedy as an opportunity to self-promote her own image, rather than post an image of Alton or his family.
After hearing those complaints, Mischa seemed to get the message. On Friday, she did tweet out a picture of the Sterling family, as well as several other messages about the protests and Dallas shooting.
pic.twitter.com/BcZpjr5zbW — Mischa Barton (@MischaBarton) July 8, 2016
If you are not angry ... You are not paying attention pic.twitter.com/WW3IVJ8Bmu — Mischa Barton (@MischaBarton) July 8, 2016
My heart goes out to the families of the innocent police officers who were shot in the line of duty. #PrayForDallas — Mischa Barton (@MischaBarton) July 8, 2016
Personally, I don't really think anything was taken "out of context" as Mischa says it was, but at least she is trying, kind of.
However, she also added the hashtag "#whitelivesmatter" to a Macolm X quote, so I'm not so sure how well this apology is going to go over after all.