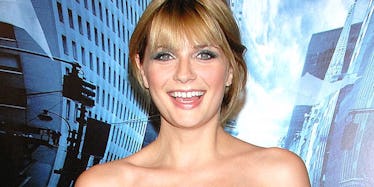 People Are Super Pissed At Mischa Barton Over This Insensitive Instagram Post
Shutterstock
Mischa Barton is the kind of celeb who for SURE runs her own social media. We certainly know that now.
In response to the murder of innocent Alton Sterling at the hands of a Baton Rouge police officer, Barton posted a tribute on Instagram.
The former "The OC" actress called for "gun control and unity," insisting she is "truly heartbroken" over the "#altonsterling execution."
Though her pain is clear, what's confusing is the photo accompanying the statement. In the pic, the 30-year-old stands on the stern of a yacht, dressed in a bikini, staring sadly at a glass of wine.
Never one to miss a good dragging where dragging is due, Twitter chimed in.
Let us all take a moment to thank Mischa Barton for taking a moment out of her yachting and day drinking schedule to deliver that word. — Schuyler Cousin (@xicacha) July 7, 2016
@micahpeters_ @AllisonPDavis @jennydeluxe I wanna know if it's an old photo or if she told someone "catch me mourning" — Ira Madison III (@ira) July 7, 2016
@ira @evepeyser "someone needs to make a change...and I will do that when this photo hits 10K faves let's make it happen people" — Sam Escobar (@myhairisblue) July 7, 2016
Support is necessary now more than ever, but not if it exists only as a veil for self-promotion. Luckily, Mischa has taken the post down and hopefully plans to re-tool her approach.
Citations: Mischa Barton responds to Alton Sterling's death with...a yacht Instagram? (Mashable)