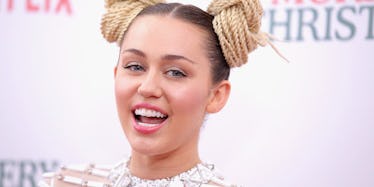 Miley Cyrus Rocks 'Hannah Montana' Hair On Set Of New Show
Getty Images
After doing everything in her power to distance herself from her most famous character, Hannah Montana, Miley Cyrus has gone back to her roots — sort of.
Photographs taken from the set of Woody Allen's upcoming Amazon miniseries starring Cyrus show the newly-engaged singer rocking a long blonde wig, much like her former Disney character Hannah Montana.
Along with the wig, Cyrus' costume includes a tassel-adorned knit poncho and baggy olive green cargo pants, an ensemble fitting of the 1960s hippie chick character she plays.
The show, which is Woody Allen's first venture into television, will be comprised of six half-hour episodes.
Details on the project are scarce, but People Magazine reports "The Big Short" actor John Magaro will make an appearance, along with Elaine May, Rachel Bresnahan and even Woody Allen himself.
The as-yet unnamed series will premiere on Amazon later this year. Stay tuned for details and check out the set photos below.
Miley Cyrus on the set of Woody Allen's Amazon Series in New York. RT if you're excited! pic.twitter.com/y0LA0rym19 — Miley Cyrus (@ismileycyruz) March 12, 2016
Miley Cyrus dons long, blond wig on the set of Woody Allen's Amazon series -- see the pics: https://t.co/8m1QTFqYDW pic.twitter.com/7lmIUEBQDE — billboard (@billboard) March 12, 2016
Citations: Miley Cyrus Channels Hannah Montana in These New On-Set Photos (Cosmopolitan), Hannah Montana, Is That You? Miley Cyrus Dons a Long Blonde Wig for Woody Allen's Upcoming TV Series (People)