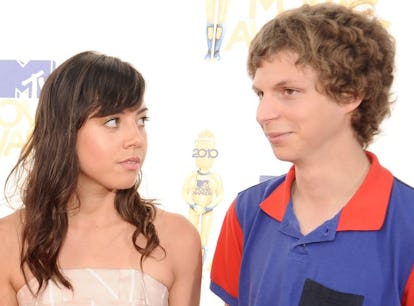 Michael Cera & Aubrey Plaza Almost Got Married For A Joke
Love that for them, honestly.
Jeff Kravitz/FilmMagic, Inc/Getty Images
If just one Las Vegas trip had gone slightly differently a couple decades ago, Aubrey Plaza would now be Michael Cera's ex-wife. The two actors have kept most of the details about their past relationship private — it was only in recent years that Plaza even revealed they'd dated — but now Cera is opening up about one big step they almost took together... even if they didn't see it as anything major. The reason Cera and Plaza almost got married is definitely not what you'd expect, but it's also kind of perfect considering their senses of humor.
Cera and Plaza dated from throughout 2009 to the end of 2010 while they were filming Scott Pilgrim vs. the World together. But nobody ever really knew they were together. It wasn't until Plaza confirmed she and Cera had dated during a 2016 podcast appearance that the relationship became public knowledge. And Cera revealed an even bigger shocker during his June 16 interview with Rolling Stone: There was almost a wedding.
While the two were on a road trip to Vegas back in the day, they got a sudden urge to get hitched. "We were driving through Vegas, and we almost just spontaneously took a detour and got married," Cera said. But they weren't planning on staying married long. Their actual plan was to divorce immediately afterwards, so they could go all in on a bit. "I think the idea was to then get a divorce right away, so we could call each other 'my ex-husband' and 'my ex-wife' at like, 20."
But of course, Cera is merely Plaza's ex-boyfriend, not her ex-husband. Now, he is raising a son with his longtime partner Nadine, while Plaza is married to screenwriter Jeff Baena. Though their romance didn't work out, Cera and Plaza remain friendly, and will even reunite to work together again in Netflix's upcoming Scott Pilgrim vs. the World anime series.
After sharing his almost-wedding story, Cera praised Plaza's recent successes, admitting he's not surprised that she's slaying the game right now. "She's always been so committed to everything she does," he said. "It's not surprising to me that she's doing really well. The thing that's surprising to me is how much she's producing and putting together projects. It's amazing. Ingrid Goes West? That was so great."