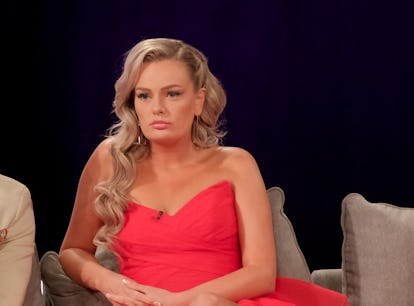 Micah Dragged Zack For How He Behaved In The Love Is Blind Reunion
"You've plugged your Instagram just in this reunion four different times."
Netflix
Season 4 of Love Is Blind may be over, but the drama among the cast sure isn't. After a tense reunion, Micah made her feelings about Zack known, implying he was insensitive and opportunistic during the special in a recent interview. Here's why Micah called out Zack's behavior from the Love Is Blind Season 4 reunion.
"I don't know what Zack was on, but it was too much for me," Micah said on the April 20 episode of The Viall Files podcast about her castmate's actions during the reunion. In particular, she took issue with how hard Zack came down on his ex Irina. During the reunion, Irina apologized for mistreating Zack during their short engagement, and Zack responded by accusing her of only coming on the show to "get famous." Micah, who became close friends with Irina through the show, was uncomfortable with Zack's barbs.
"She was sitting there trying to apologize, [whether] you think it's genuine or not. She's sitting there, she showed up, she's doing her best, and it's just dig after dig after dig," Micah said. She went on to say Zack's comment about Irina wanting to get famous felt hypocritical to her: "To say someone's not there for the right reasons — like, you've plugged your Instagram just in this reunion four different times."
In the reunion, Zack implored viewers to read his "receipts" about his messy breakup with Irina that he had posted to his Instagram. The so-called "receipts" turned out to actually be a story about Zack's late mother that ended with a call for grace and forgiveness.
After pointing out how Irina went radio silent on social media while Love Is Blind aired, Micah tore into Zack for his comments. "Like, who's here for fame? You're on a TV show. You're literally surrounded by cameras. You're actively on Instagram post-show," Micah said. "I mean, be real with yourself. Maybe it's not why you came, but you're making it work."