Out Of Style (Swiftie's Version)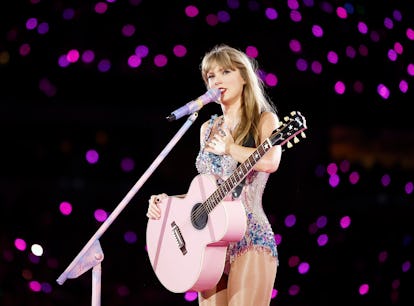 Welp, Swifties Are Not Feeling Taylor's New Version Of "Style"
"It's gotta grow on me, I fear..."
Emma McIntyre/TAS23/Getty Images Entertainment/Getty Images
Swifties, it's 1989 season. In August, Taylor Swift revealed the album was next to receive the re-recorded treatment. As with any of the singer's reworked material, there's always a chance she might make some sonic changes to the original tracks' DNA. And sometimes, these new elements haven't impressed fans — ahem, "Better Than Revenge." With all ears to 1989's re-release, many Swifties noticed that "Style" has a different edge to it. It stirred up some mixed emotions on social media, so let's dissect the two versions.
The original cut of "Style," which is an undeniable hit, pulses with a synth-pop flare that speaks to the era of its release. (ICYMI, the track was first released in 2014, a year where many artists were shifting their attention to more '80s-inspired pop.) There was certainly a longing for nostalgia at the time, and Swift impressively built "Style" — and much of 1989, as non-subtly given by the album's title — around that escapism.
Meanwhile, the latest rendition of "Style" goes in another direction. While it still preserves some highlights from the original, the newer arrangement has a more crisp and meticuously buffered tone to it. Or, according to a few listeners, it's maybe a bit too polished. One Swiftie shared her thoughts about the recent version on X (formerly known as Twitter), noting it sounds "thin, generic, and all overproduced."
Besides the production, another noticeable difference happens in the track's opening guitar solo. The new version's riff sounds a bit more modern and slightly heavier, which differs from the softer sway of the original. Even with that change, there are some Swifties who adore the newer intro.
This mixed reception of "Style" became an interesting talking point on X. On Oct. 27 (aka, 1989's re-release day), one fan wrote: "I love the verses and the last part but the chorus….it's not what I expected." Another user echoed that sentiment, but noted the layered vocals in the final chorus "bugged her." Elsewhere, fans' thoughts on the reworked track appeared black and white: Either they fully appreciate it or believed it should've stayed in the drafts. Or in the Taylor's Version case, the unopened vault.
Some of fans' criticism of "Style" carried over to Jack Antonoff and Christopher Rowe, two producers who have helped breathe life to Swift's other re-recorded albums. One Swiftie individually pointed their finger at Rowe while another had their eye on Antonoff, even though the latter producer doesn't have ties to the track. According to Rolling Stone, Antonoff only worked on four vault tracks: "Now That We Don't Talk," "Suburban Legends," "Is It Over Now?" and "Slut!"
Between the mixed and one-sided reactions, it's clear "Style" has quite the loyal following.