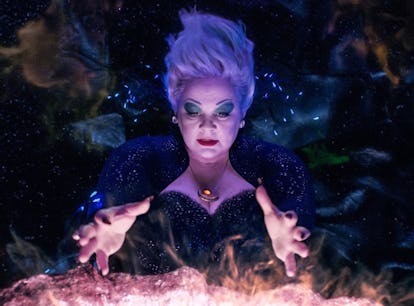 The Makeup Artist Behind Melissa McCarthy's Ursula Look Calls Backlash "Offensive"
"Why can't I do as good a job as a queer makeup artist?"
@Disney
Oh, that poor unfortunate transformation. Ahead of the live-action premiere of the Little Mermaid, Disney released several behind-the-scenes moments used to bring the classic tale to life. This included a video of Melissa McCarthy, who plays Ursula, transforming into the wicked sea witch on Twitter. The character holds the underwater throne as Disney's most iconic villain, so fans held McCarthy's visual rendition of the character to a high standard. However, her makeup look didn't hit the mark, and people online weren't shy in sharing their disappointment. Recently, the artist behind McCarthy's look addressed the controversy, and he's standing by his artistic vision.
On May 26, artist Peter King shared his thoughts on the backlash to Insider. Many drag performers voiced their opinions on Ursula's lackluster transformation, especially since the villain is famously inspired by late drag icon Divine. Some users even noted a queer makeup artist (or an actual drag queen) should've been hired in King's place, as nailing those exaggerated and vibrant notes in Ursula's look is just as vital as her performance.
"I find that very offensive. Why can't I do as good a job as a queer makeup artist?" King said. "That's trying to claim it and that's fine, if that's what they wanna do, but don't put people down because they're not what they want it to be."
As for inspiration, King — whose cosmetic skills has appeared in The Lord of the Rings saga and Mary Poppins — told the outlet he didn't rely on any outside influences. "No, no. It was me. I didn't really draw on anything. I played around quite a lot with different colors, different shapes, and stuff," he said, adding he mostly used conversations he had with McCarthy as muse.
This decision differs from McCarthy, who told Deadline in April that she did her homework on drag performances to ace this role. She didn't have to reach too far in her studies, as the actor used to perform in her drag persona, Miss Y, when she was coming up as a comedian in New York.
In terms of McCarthy and King's conversations, he said they both bonded over "how much we love drag queens and drag makeup and stuff." This revelation only makes King's creative direction for Ursula a bit puzzling.
King continued, calling the backlash "ridiculous" and sharing he doesn't understand the negativity around his work. "I personally don't get it. Yes, I'm very old now, so that's fine, I get that too, but, you know, a makeup artist or makeup designer could design makeup, they don't have to have an attachment to the nature of what they're doing," he said.