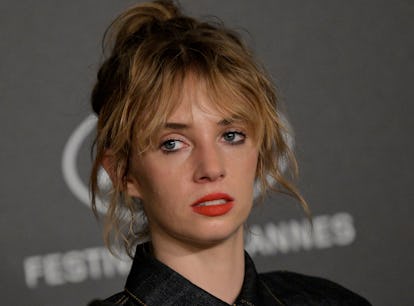 Maya Hawke Isn't Sure She Wants Her Stranger Things Character To Have A Girlfriend
"I love characters where their love life is not the center of their existence."
ZOULERAH NORDDINE/AFP/Getty Images
With the final season of Stranger Things on the horizon, the Hawkins gang doesn't just have to come up with a plan to stop an otherworldly evil from destroying the world, they also have to figure out their love lives. The ever-changing relationships on the show have become a topic of much debate among fans — there's a heated battle line drawn between the Nancy and Steve shippers and the Nancy and Jonathan shippers — and the end of Season 4 put Robin's romantic life seriously in the spotlight for the first time. And Maya Hawke feels two ways about it. The actor explained why she's hesitant to see Robin possibly get a girlfriend in Stranger Things Season 5, because she doesn't want to be reduced to just a dating storyline.
Unlike the rest of the horny teens in Hawkins, Robin never really had a major love interest until Season 4. When the sarcastic ice cream scooper was first introduced in Season 3, her chemistry with Steve was undeniable, and he misinterpreted it as romantic interest. As they grew closer, Robin confided in him that she was attracted to women, and Steve transformed from would-be-boyfriend to the ultimate wingman for his bestie. His big project: Set Robin up with her marching-band crush Vicky. And it actually seemed to work. In the Season 4 finale, Robin and Vicky are shown giggling with each other as they make sandwiches for the displaced residents of Hawkins.
The moment seemed to confirm an official Robin and Vicky relationship for the final season, which had some fans rejoicing, while others had begun shipping Robin with Nancy after noticing their connection in Season 4. Either way, the Stranger Things viewers got pumped to see Robin embrace her romantic side in the finale season. But Maya Hawke isn't exactly on that same page. When asked if she hopes to see Robin with a girlfriend in Season 5, Hawke admitted she's on the fence.
"I feel mixed about it," Hawke told Yahoo! Entertainment on June 20. "It's both a great thing, and I also love characters where their love life is not the center of their existence."
Hawke went on to explain that her chief concern with Robin getting a girlfriend is that it would potentially detract from her screen-time with Steve. "That friendship with Steve is so special," Hawke said. "And friendships have been carrying me through my life. I think they're really important and they deserve their airtime."
Stranger Things 5 doesn't have a release date yet, so fans will just have to keep waiting to see how Robin's story will end when the final season does arrive at last.