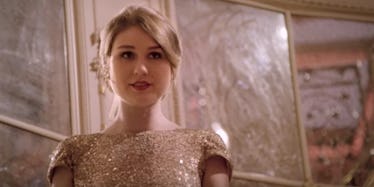 Madisson From 'Siesta Key' Is Totally On Board With Those LC Comparisons – EXCLUSIVE
YouTube
Anyone who watched Laguna Beach in 2004 will instantly recognize the format of Siesta Key, MTV's newest reality series. It's no secret that MTV hopes to squeeze more success out of an old formula — after all, Laguna Beach was not only hit, but a pioneer of contemporary reality TV. The Siesta Key cast seems more than happy to embrace the inevitable comparisons. I had the chance to sit down with Madisson Hausbaug, who's been declared the new Lauren Conrad, and she opened up about turning her life into a reality show, becoming a public figure, and aspiring to be LC.
A little background for those who haven't caught the show yet: Like Laguna Beach, Siesta Key follows beautiful, rich kids going about their beautiful, rich lives as they valiantly try to ignore the cameras. There's Alex, the main character, who just turned 22. He's your average southern Florida bro, who's lawyer dad came up with the idea (and the funding) to start this show in the first place. Alex takes on the Stephen Colletti role, though he lacks Stephen's charm. There's Juliette, Alex's sort-of girlfriend, except Alex cheats on her all the time. Her (understandably) possessive attitude lands her the villainous Kristin Cavallari role. Then there's Madisson, Alex's high school sweetheart, who's home from college and interested in starting things up with Alex again. Madisson is smart, likable, and sweet on camera (and even more so when I meet her in person) — a total Lauren Conrad.
How does Madisson feel about these comparisons? She absolutely loves it. She tells me,
I think it's lovely. [Conrad] is a wonderful woman, and I mean, god, she's so successful, she's beautiful, she's seems always, from what I've seen, very kind. So absolutely, I love that comparison.
Madisson tells me that other than the obvious storyline comparisons between herself and LC, she also just aspires to be more like the now-famous TV personality. "I would say if I had to choose who I was most similar to on Laguna Beach, I would say Lauren," she says. "She would also be the one I aspire to be most like."
Like the rest of us, Madisson was also a big Laguna Beach fan back in the day. She loved Stephen Colletti, and was #TeamLaurenAndStepehen all the way. "Lauren was my role model back then," Madisson says. "So it is fun to kind of, think, 'Oh, maybe I'm playing into Lauren's role.'"
But of course, she clarifies, it's still her life and her experiences, not Lauren Conrad's. And Madisson does feel there are some key differences between Siesta Key and Laguna Beach.
I watched Laguna Beach so long ago, and so much is different today, like with social media, it can't be the same that it was. Reality TV has to be different, because of social media. And also because the world issues are changing, these things need to be addressed differently than they were back then. So it's definitely different.
When I press her on how she feels social media has affected the show, Madisson say,
Back then, when there wasn't Instagram. Now people go back and they judge everything you ever did, because you're posting everything you do. It feels very competitive, like, who has the best picture, who did the coolest thing that day. So there's a lot more judgement from viewers. Not only are you being watched on television, you're then being watched on Instagram, and on Twitter.
Social media certainly has been a problem for the show already — the show's main guy, Alex Kompothecras, got in big trouble with animal rights activists when a video surfaced of two men in a boat, shooting and killing a hammerhead shark.  Alex posted a since-deleted photo on Instagram posing with a dead shark, in the same outfit as the shooter from the video, leading many to believe he was the shooter. However, a spokesperson for the network released a statement that Alex was not on the boat during the incident. It's a hard to imagine a controversy like that plaguing the Laguna Beach reality stars in 2004, so you can definitely see Madisson's point.
Whether or not Madisson Hausbaug will follow in the famous footsteps of Lauren Conrad remains to be seen. Madisson went to school for engineering (because she's great at math), and she's been interviewing for a few engineering jobs on camera, but she tells me the show has opened her mind to other career possibilities. She says,
Now I feel like now that I have this breather, to kind of step back and think about it, it's like, OK I can do more than just that. I can do engineering with something that involves maybe like community service, or something, those are options, and I don't just have to jump into the corporate world right away.
I ask if she might consider a career in entertainment, now that the show has opened a few doors for her.
"I had never thought about being a part of the entertainment industry before," she replies. "It's very cool, seeing how it all works and stuff, but I don't know that that is necessarily where I will go. But who knows."
For now, she's focused on the show, which she says she'd be willing to do for two more seasons after this one. She tells me there's more boy drama to come this season — and not just with Alex. A sneak preview of Episode 5 hints at a romance brewing with Brandon, who just happens to be Alex's best friend.
Maybe a new Lauren Conrad is what we could all use on our TVs right now. Catch all the drama of Siesta Key tonight and every Monday, at 10 p.m. ET on MTV.