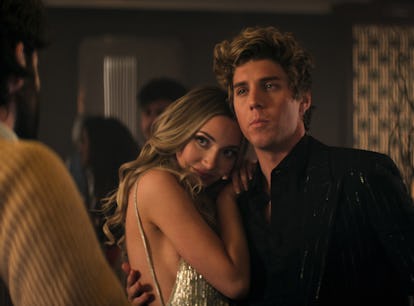 Lukas Gage Wasn't Prepared For You's Golden Shower Scene Either
It just might top his viral rimming scene in The White Lotus Season 1.
Netflix
Warning: Spoilers for You Season 4, Part 1 follow. Netflix's You series has been loved (and, TBH, hated) for its twisted sex scenes from the very start. Usually it's Penn Badgely's anti-hero protagonist, Joe Goldberg, who's at the center of these lustful moments, but in Season 4, a new character got his chance to shine... with a golden shower. Lukas Gage, who plays You's new character Adam, opened up about how that scene came to be — and how he really feels about his growing repertoire of sex scenes in popular shows.
But first, some context: Early on in the new season, which premiered with its first five episodes on Feb. 9, Gage's Adam was deemed a suspect in a murder mystery case Joe was charged with solving. However, when Joe attempted to investigate Adam for being a cold-blooded killer, he instead uncovered a hidden fetish of his new frenemy: getting peed on. In the scene, Joe peeked into a room to find Adam on his knees, in his underpants, and wearing a pair of goggles as he delightedly got his needs met by an employee.
Fulfilling a consensual kink certainly doesn't make Adam the monster Joe was hoping to uncover, but considering Adam is in a serious relationship with another of Joe's new friends, Lady Phoebe (Tilly Keeper), the golden shower scene was quite a surprise for viewers. Turns out, it was also a surprise for Gage.
"I did not know that I was going to get peed on in You when I took the part," he told The Hollywood Reporter. "I'm not, like, asking my agents to send me only roles where I'm half naked."
But of course, this isn't Gage's first time getting frisky for a role. In The White Lotus Season 1, he had the very memorable role as hotel employee Dillon, who participated in anilingus with the resort's manager, Armond (Murray Bartlett). And while Gage noted he's not specifically seeking out roles involving these types of graphic sex scenes, if he does land them, he's going to do them justice.
"I guess I'm a little more European in my thoughts on nudity right now," he told THR. "I'm not begging to take my clothes off, but I'm comfortable with it. I want to keep a sense of truthfulness, too: If there's a scene where I'm having sex with my boss, it's gonna be pretty f*cking weird if I have clothes on. Those scenes are so mechanical in their filming, anyways. There's nothing sexy about a director telling you you're thrusting weird."
He went on to say: "With that [You] scene, and in The White Lotus, I wasn't doing it to be sexy, but for comedic value. I didn't think it was going to be hot for people. But I did want to go as far as possible. It can't be a half rim job, or a half golden shower — although we did use a water machine with yellow food coloring."
Gage has even gone so far as to lend his own opinions to making a sex scene even better. Of his You golden shower, he admitted: "It was my idea to wear the googles."
Fans will have to wait and see if there's more sexy time in store for Gage as they watch You Season 4 on Netflix. Episodes 1 through 5 are now streaming; Episodes 6 through 10 will premiere March 9.