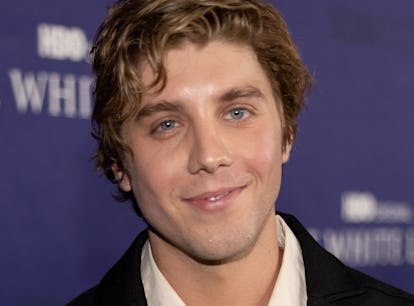 Attention HBO: Release Lukas Gage's Cut White Lotus Season 2 Scene
Putting him in Season 3 is also an option, FYI.
Christopher Polk/Variety/Getty Images
Lukas Gage is living it up playing a problematic party boy in You's London-set Season 4 right now, but fans almost got a chance to see him carousing across the pond a few months earlier, had things gone according to plan. Turns out, Gage was supposed to reprise his viral The White Lotus Season 1 role of hotel employee Dillon in Season 2, but his scene was cut. Thankfully, he has a good attitude about it.
"Fred [Hechinger, who played Quinn in Season 1] and I did a scene for Season 2," Gage told The Hollywood Reporter. "When Jennifer [Coolidge's character] is with the gays in Palermo, she originally opens a door in the villa and sees a shot of me doing drugs that turns out to be an illusion. It got cut because it didn't work with the show, but I didn't care because I got a free trip to the Four Seasons."
Even without this moment, the scene in question already felt like a fever dream. Tanya (Coolidge), high on cocaine, floated around the opulent Palermo villa as viewers held their breaths, convinced she'd meet her demise at any moment. Having two of Season 1's most random characters make an appearance during Tanya's drug-addled dream state might have been too much for fans to handle... which is exactly why HBO should release the deleted scene ASAP.
Of course, there is another option if HBO is at all interested in scratching fans' itch to get more of Gage: Put him in The White Lotus Season 3, which Gage is very much on board for. "For Season 3, I'm literally writing Mike [White, the show's creator] every day like, 'Hey, remember me!'"
For now, though, fans can hold themselves over with You Season 4, in which Gage's character, Adam, throws lavish parties, tries to avoid getting done in by the Eat The Rich Killer, and receives golden showers. It's no White Lotus rim job, but it should do just fine.