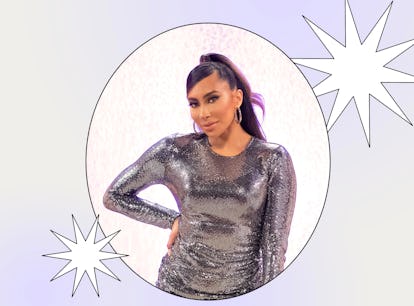 Raven Ross Explains How She Got Her Through Her "Rocky" Breakup
Here's her "underrated" tip for post-breakup healing.
Netflix
Raven Ross' love story didn't play out the way she hoped on Love Is Blind Season 3's "After The Altar." In the finale episode, SK Alagbada proposed to Ross for the second time, and she accepted. But the romantic moment was cut short when the show flashed forward a few months to show Ross crying on her couch, explaining their breakup. "Since then, a lot has changed. My world is completely different because, you know, SK cheated on me and our relationship is over," she said on camera. The vulnerable moment was a sad but honest ending for the fan-favorite relationship. But how does Ross feel about watching it all back now? It's complicated.
"Honestly, I was not planning on watching it at all. But then I got together with a few of the other cast members. We were just having fun, and it definitely helped me be more open to watching it, but still, it's hard," she tells Elite Daily. Since Alagbada's reported cheating scandal in November 2022, things haven't been easy.
"At first, it was rocky," Ross explains. Fortunately, she was able to tap into some self-care habits to make the fallout a little easier. "My healing process has been a journey, but I've had a lot of time to really navigate my self-care practice. Having those habits down really came in handy... so did having amazing people supporting me, especially my castmates," she adds.
That self-care included pilates (Ross is a master trainer), but some other "unhealthy" coping mechanisms, too. "I was pouring myself into work and just taking on way too much to ignore my mental state. It's not great, but it's very productive," Ross says. "I'm an Aries. We're just gonna go crazy."
She balanced that out with some softer practices, like "listening to a podcast, taking a bath, or letting myself watch a movie." Apparently, "taking a walk outside" was also key. "It's underrated how being in the sun really affects your mood," Ross says. (Spoken like a true fire sign.)
These practices, plus time, have helped Ross to "totally" move on from what went down. "I had to grow thicker skin overnight, but truly it helped me realize that my value is not attached to what people think or say about me," she says.
All in all, Ross doesn't have any regrets from her time on the show. Despite everything, she says, "I would do it again. I wouldn't be where I am without it."