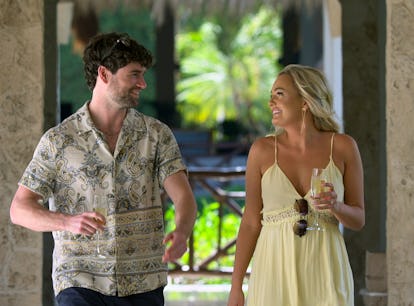 Love Is Blind's Paul Responded To Micah's Romantic Instagram
"My love for you isn't going anywhere."
Netflix
Love Is Blind Season 4 didn't end with a marriage for Paul Peden and Micah Lussier, but that doesn't mean there's no love between them. After their failed wedding in the spring of 2022, the duo attempted dating post-show, but their relationship didn't last. "It ended pretty quickly after [Micah went back to Arizona]," Paul explained during the reunion. They might not be together anymore, but Micah and Paul still have "love" for each other — and they're taking to social media to talk (see: gush) about it.
On April 25, Micah posted a video on TikTok and Instagram, featuring snippets of her and Paul's time together. From cuddling to kissing, the video was PDA-heavy, and her caption was surprisingly sweet, considering it was about the ex who said "no" at the altar. "A glimpse into our relationship through our own lense after filming," she wrote. "Paul, I'll always be so thankful that you came into my life. We shared something so special together & no one will ever be able to replace that. No matter what I'll always love you 🤍"
She added, "Sometimes we have to let go of what we thought was meant to be, and although it's difficult it's also an opportunity for growth. Thank you all for being a part of our journey."
Although some fans were confused by her post (one on TikTok even commented, "posting your ex is wild"), Paul didn't seem to be. In the comments section, he replied with a sweet message of his own. "My love for you isn't going anywhere. Maybe we're together, maybe we're not, but regardless, we'll still have that no matter what," he wrote.
It looks like there really are no hard feelings between these exes. Still, that doesn't mean they're on track to getting back together anytime soon. After the Season 4 reunion in April, Paul told Elite Daily that he was currently seeing "a girl from Canada," and Micah confirmed she was "currently single."
Welp, here's to friendly exes and romantic montages!