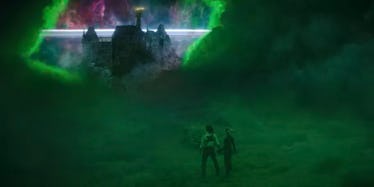 5 Loki Theories About The Castle At The End Of Time
There's lots to unpack here.
Marvel Studios
Since the first episode of Disney+'s new Marvel show, Loki, fans have guessed there was a secret behind who runs the TVA. From the mysterious Time-Keepers who no one ever saw to the oddly restrictive concept of the "sacred timeline," something seemed off. But as the series has slowly peeled back the layers of this onion, the entity pulling strings has remained a mystery. With only one more episode to go in Season 1, fans are still in the dark as to who the show's main antagonist will be. But these Loki theories about the castle in the Void — and who resides there — round up the main suspects.
Warning: Spoilers for Loki Season 1, Episode 5 follow. Since Loki and Sylvie returned to the TVA in Episode 4, their quest to discover the person behind the bureaucracy has been frustrating. Sylvie believed if she found the Time-Keepers, she'd have the culprits. But the Time-Keepers turned out to be animatronic androids, false faces for the real power behind the TVA to hide behind. The discovery that pruning did not kill a person but rather sent them to the end of the universe seemed like it'd get Loki and Sylvie to the right answer, but all there was to be found was Alioth, a Time Monster who preyed upon anyone sent to it.
Sylvie guessed Alioth was a guard dog of sorts, the next layer of monster the person at the heart of this whole thing was hiding behind. When she and Loki took down the beast, the clouds fell away, and a castle appeared. But who resides in this castle beyond the end of time? Here are the most popular guesses:
Loki's Season 1 finale will debut on Wednesday, July 14, on Disney+.