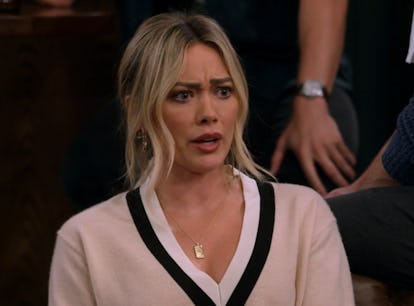 HIMYF Brought Back A Classic Lizzie McGuire Moment In The Best Way
Hulu
The Lizzie McGuire revival may have been shelved, but Hilary Duff found another way to bring back everyone's favorite teen drama queen. Duff's first iconic character made an unexpected cameo in her new series How I Met Your Father as a little nostalgic treat for fans. Here's how HIMYF's flashback revived a memorable Lizzie McGuire scene.
In Season 2, Episode 7 of How I Met Your Father, which dropped on Hulu on March 7, the gang shared their worst Valentine's Day stories to try to cheer up a disheartened Ellen. The episode is filled with flashbacks as all the characters reminisce on their past romance horror stories, but one of the flashback scenes wasn't exactly new. As Sophie spoke about a Valentine's Day heartbreak she experienced when she was 13, a scene that originally aired over 20 years ago began to play. The episode cut to a quick Lizzie McGuire clip, in which Lizzie did that classic "No, you hang up first" bit on the phone with her first boyfriend while her bestie Miranda recoiled in annoyance.
The clip was taken from Lizzie McGuire's Season 2 premiere, "First Kiss," in which Lizzie briefly gets her first real boyfriend in the paper boy Ronnie, only for him to dump her for another girl shortly afterward.
According to HIMYF co-creator Elizabeth Berger, Duff was totally down for the little throwback right off the bat. "We very quickly got a temperature check from Hilary via text, asking, 'How do you feel about this?' And she was immediately game," Berger told TVLine. "Hilary thinks it's funny. She did not hesitate for one second."
The Lizzie McGuire moment came three years after a planned revival of the Disney Channel series was canceled by Disney+ in the midst of production drama. The reboot, which would have followed Lizzie as a 30-year-old living in New York City, hit various obstacles shortly after it went into filming at the start of 2020. Not only did lockdown restrictions put the series on ice, but showrunner Terri Minsky also exited the project after Disney+ stated they wanted the show to move in a "new direction." It was heavily speculated that the planned revival was deemed too adult for Disney's streaming platform, especially after Duff posted a statement asking that the series be moved to Hulu so it wouldn't have to "live under the ceiling of a PG rating."
Disney+ officially shelved the reboot at the end of 2020, but Duff hasn't given up hope. In January 2023, she shared that she's still "optimistic" the revival will happen at some point. Well, this little HIMYF scene may not have been the full-fledged Lizzie McGuire revival we were all hoping for, but at least it was a nice treat.