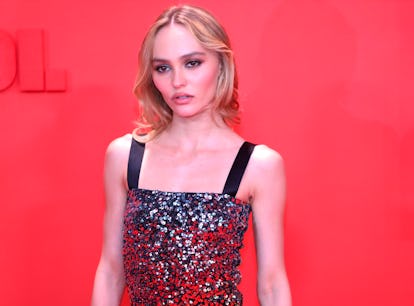 A Deep Dive Into Lily-Rose Depp's Dating History
It doesn't look anything like Jocelyn's.
Laurent KOFFEL/Gamma-Rapho/Getty Images
HBO's The Idol puts a lot of focus on Jocelyn's love and sex life — even if the show's dirty talk completely missed the mark. In real life, Lily-Rose Depp, the actor who plays Jocelyn, keeps her romances private. Apparently, she'd rather have people find her "boring" than know too much about her personal life.
"I grew up with a notion of privacy that was very particular, just because of the situation that I grew up in," Depp explained in a 2021 interview on The Drew Barrymore Show. (Depp's parents are actor Johnny Depp and model Vanessa Paradis.) "I've always been taught that privacy is something you should value and keep as much for yourself as possible."
With that in mind, despite her growing star power, Depp doesn't share a lot. Publicly, she rarely discusses her love life... even if she does indulge in the occasional PDA. Here's a full rundown of her dating history — plus, the rapper she's currently seeing.
070 Shake: February 2023 - Present
Depp was spotted engaging in some steamy PDA with rapper 070 Shake in June 2023. The couple was seen getting handsy during a public makeout on June 11, after a date at NYC's Lure Fishbar. Per Us Weekly, a month earlier, in May, Depp made their romance Instagram Official with an IG Story of them kissing. She captioned it, "4 MONTHS W MY CRUSH," hinting at them first getting together back in February.
Yassine Stein: October 2021 - Unknown
Depp was first photographed with French rapper Yassine Stein in October 2021 during a walk in Paris. Then, in November 2021, they were spotted kissing outside of a supermarket in Los Angeles. They kept their romance pretty quiet and low-key, but were photographed again in September 2022 out and about in New York City. It's unclear when they split up, but fans noticed the duo had stopped following each other on IG in March 2023.
Austin Butler: August 2021
Depp's reported relationship with Butler — if you can call it that — was short-lived. The duo was photographed kissing in London in August 2021, five years after they worked together on the movie Yoga Hosers.
Timothée Chalamet: October 2018 - May 2020
After meeting on the set of The King, Depp and Timothée Chalamet dated for about two years before calling it quits. At the beginning of their relationship, an eyewitness told Us that they seemed to be "a new young couple in love." Their relationship had plenty of highlights, but one PDA moment stands out from the rest: Depp and Chalamet's makeout on a yacht in Capri in September 2019. By April 2020, their relationship was over, and British Vogue confirmed Chalamet's single status in an interview.
Ash Stymest: October 2015 - April 2018
Depp and model Ash Stymest reportedly started dating in October 2015, and through the course of their three-year relationship, they were spotted several times by paparazzi. They kept their romance pretty private, and in April 2018, sources told Just Jared, "LRD and Ash have decided to call it quits."