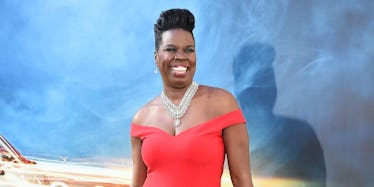 Leslie Jones Returned To Twitter In True Leslie Jones Fashion
REX/Shutterstock
Leslie Jones has made a triumphant return to Twitter after she was forced to abandon the internet when hackers posted nude photos on her website.
Personal images of the comedian and pictures of her driver's license and passport were also leaked.
She took down her website on August 24 and quit Twitter for more than 10 days.
But now, she's back.
She relaunched her Twitter account over Labor Day weekend and celebrated by sharing her love for "The Golden Girls."
She then thanked her friends and fans for their support.
She wrote,
Thanks to my fans and friends! I'm sooooooo ok really. And I will always be funny been through a lot in my life and I ALWAYS GET BACK UP!
She went on to warn everyone things are about to get loose for her birthday week.
Her absence from Twitter came after a string of vile, racist attacks. Trolls bombarded her with cruel remarks and pictures.
But a bit of trolling isn't enough to keep this girl down.
WHOOP. Welcome back, Leslie. We missed you.