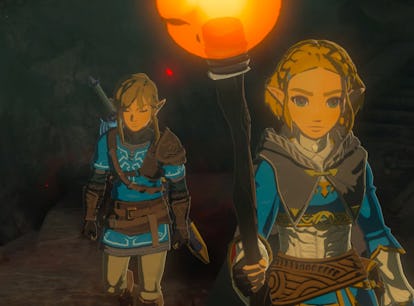 A Legend Of Zelda Movie Is Happening & Fans Want This Star As Zelda
She's expressed her interest in the role before.
Nintendo
The moment video game players have waited nearly four decades for has finally arrived. The Legend of Zelda live-action movie is happening. This is a project that has been rumored and speculated about for years, but now one of the most beloved video game franchises ever is coming to the big screen at long last. And fans are already theorizing about which actors will take on the iconic roles of Zelda and Link.
The big announcement came on Nov. 7 in an official post to Nintendo investors, in which the company confirmed the movie is being produced by Nintendo game director Shigeru Miyamoto and former Marvel Studios CEO Avi Arad. The movie will be directed by Wes Ball, who previously directed the Maze Runner trilogy, and Sony Pictures will distribute the movie.
Beyond those production details, there are still a ton of unknowns about this long-awaited live-action Legend of Zelda movie. But the announcement was enough to tip off some fans as to which actor has a really good shot at playing Link, and it also sparked a wave of support for one star that fans think is the perfect choice for Zelda.
All The Link & Zelda Casting Rumors
Obviously, the first thing LoZ fans did after the movie announcement was dissect the report for any clues about the cast. And one name rose above the rest: Tom Holland.
Holland has been fan-favorite choice to play Link for years, and Nintendo's press release added more fuel to that speculation. In particular, the choice of Arad as the film's producer seemed to be a hint. Holland has starred in nearly all of the movies Arad has produced in the past few years, including the Spider-Man saga and his other video game adaptation Uncharted. The movie is also being distributed by Sony Pictures, a studio Holland has worked closely with for most of his major movies.
While there are some solid clues about who might play Link, the movie's other main character is another story. However, the name that seems to be coming up the most in fan-casting Zelda is Hunter Schafer. The Euphoria breakout star became a trending topic on social media shortly after the movie was announced.
And Schafer has expressed her interest in playing Zelda previously. In April 2022, when an Entertainment Tonight reporter showed Schafer a viral TikTok fan-casting her as Zelda, the actor responded that she would be totally down to play Hyrule's princess.
"I mean, yeah that'd be cool! Like, an elf? Yeah!" Schafer said. "I played that video game a bunch when I was a kid; that's such a good game."
Gamers Have Some Big Questions
The movie's cast isn't the only mystery plaguing long-time Legend of Zelda fans. With 20 mainline games and even more spinoffs that add to the massive lore and infamously complicated timeline, fans are eager to learn exactly which story the movie will be adapted from... or if it will introduce a totally new plot to the LoZ world.
Then there's the other sticking point: Link's voice. In the games, Link never speaks. The most anyone has ever heard from him are grunts, gasps, and screams. Link's silence has been a long-held tradition among the games, but they wouldn't make the live-action Link mute, would they? That's what Zelda fans are wondering.
It Probably Won't Premiere Soon
With such massive expectations, this Legend of Zelda movie is an undoubtedly huge project for Nintendo and Sony. As such, it's safe to assume the movie won't premiere in 2024, and maybe not even in 2025. That said, the 40th anniversary of the Legend of Zelda franchise is coming in 2026, so maybe the movie will line up with that celebration.