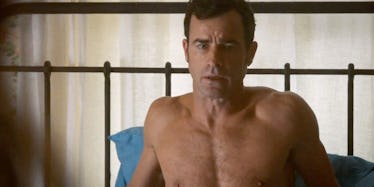 'Leftovers' Showrunner Promises We'll See Justin Theroux Naked If Show Gets Emmy Nom
HBO
The Leftovers showrunner may have just come up with the most convincing Emmy campaign ever. Damon Lindelof is offering up a naked Justin Theroux in exchange for some Emmy nominations for his show.
As fans of the critically acclaimed sci-fi drama are well aware, Theroux already shows a lot of skin on the series. In particular, a jogging scene in the pilot episode caught the attention of a lot of viewers for a certain reason.
Since that episode, the gray sweatpants Justin's character of Kevin Garvey wears every time he goes jogging have become an iconic part of the series. But Damon Lindelof is willing to get rid of them if the Emmy voters come through and nominate the recently concluded third and final season of his show for some awards.
Damon is flooding his Instagram account with various memes promising to solve the final mystery The Leftovers has been teasing fans with for three years: what's under Justin Theroux's sweatpants.
Damon is even posting Theroux thirst traps to try to get costars like Carrie Coon and Amy Brenneman nominated, including a little tease about the confusing fate of Brenneman's character Laurie.
Unfortunately, Emmy voting is concluded as of today, but I'm sure Damon's convincing posts managed to sway enough voters to get a solid batch of nominations.
Honestly, I think the show was already set to get some solid Emmy recognition even without Damon dangling Justin Theroux in front of us. The show's final season has received almost unanimous critical praise, and a number of performances have been noted as standouts (Carrie Coon as Nora Durst in particular).
But hey, who can blame Damon for wanting to beef up his Emmy chances a little more? And what better way is there to get some attention than by whoring out Justin Theroux? Let's just hope Jennifer Aniston is cool with all of this.
We'll all just have to wait a couple more weeks to find out if The Leftovers gets nominated and Damon Lindelof fulfills his campaign promise. Emmy nomination announcements will occur on July 14.