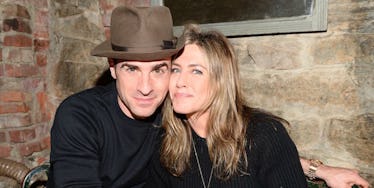 Justin Theroux Said You Can Call Him 'Mr. Jennifer Aniston' And We Love It
REX/Shutterstock
While some could see being called by their wife's name an attack on their masculinity, Justin Theroux isn't bothered by his nickname "Mr. Jennifer Aniston," which is good, because if I found out he was bothered by it, I would reconsider my crush on his mighty eyebrows.
Seriously, them two furry 'brows are so expressive I would watch them appear as every character from "Rent" in a Broadway revival.
Theroux and Aniston just celebrated their first wedding anniversary, and he couldn't stop bragging about his gal to The Sunday Times.
In between the brags, however, he did address the nickname. He said,
It doesn't really get under my skin. It's just one of those things that's a shorthand for describing who I am.
But Aniston's supernova career doesn't really outshine Theroux's, especially since their mutual success both just keeps growing.
Theroux, a jack of all trades and seemingly a master of all, doesn't just act. He's a director and some of his writing credits include "Tropic Thunder" and "Zoolander 2."
On being called Mr. Jennifer Aniston, he adds,
[Jennifer] is a proper badass. She has lived through a lot of bullsh*t. Many people would have crumbled under some of the stresses that have been put on her. I'm very proud of her for that, for the way she handles herself. So in a weird way it's an honor to stand behind her. Truly, in that sense, she's amazing.
Good on Theroux for not feeding into that misogynistic attitude that says a man needs to be "more successful" than his wife.
Who cares who the breadwinner is? We all love bread! Am I right? I think we can all agree that any amount of bread you're bringing into a relationship is a good amount... unless you're gluten-free...
Citations: Why Justin Theroux Doesn't Mind if You Call Him ''Mr. Jennifer Aniston'' (E Online)