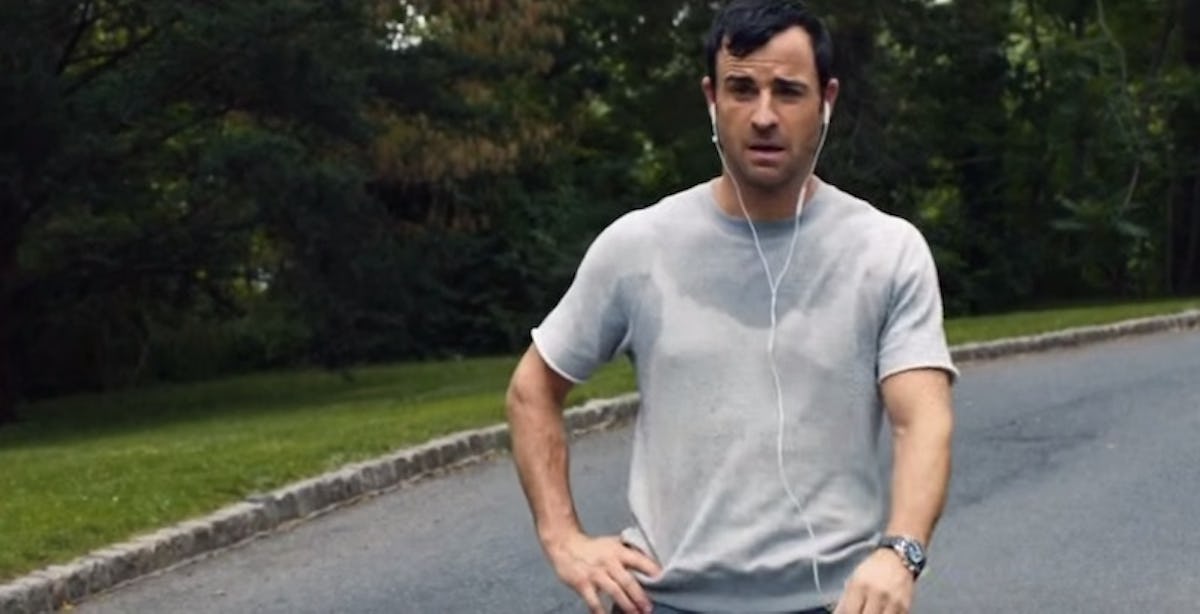 Justin Theroux Says He's Still 'Embarrassed' Over Those Sweatpant Penis Pics
HBO
Justin Theroux is never jogging in sweatpants again.
Three years ago, a pic of the actor going on a run went viral for a reason you wouldn't expect.
The photograph captured a sweaty Theroux on the set of "The Leftovers," but the star of the pic ended up being his package.
You know what I'm talking about. Fans couldn't stop staring at the D.
It's been a long time since we've seen the man in loungewear, but the image just resurfaced on social media.
Uhhh, oops? Sorry Justin! It looks like people still aren't over what they saw.
The "Girl On The Train" star just opened up about his embarrassment over the photo, now that it's making headlines again.
He explained the situation to Elle and told the magazine,
It's like having someone yank your shorts down in public. It doesn't feel great. Anyone who has an unflattering picture taken of them would probably say, 'Join the club.'
Yup, been there, done that. In roughly 95 percent of the pictures posted of me on Facebook I have six chins and four pimples. I get it, I feel you.
Theroux added,
It has the appearance of a compliment, but it's more mortifying than anything else.
Honestly, the photo isn't THAT bad. I've seen way worse.
OK, maybe not.
It must be a pretty sensitive topic for the man because he didn't comment on it for this long.
Remember when Conan O'Brien asked him about it on his show?
GOOD TIMES!
Justin responded,
The true story is that I didn't know that was a thing.
UHH, WELL, THE ENTIRE WORLD DID.
Here's the actual jogging scene from "The Leftovers," in case you were interested.
And here's a slowed-down version so you can really experience the full thing.
Justin, I'm so sorry. Hang in there, man.
Citations: Justin Theroux Talks About Penis Picture (E Online)