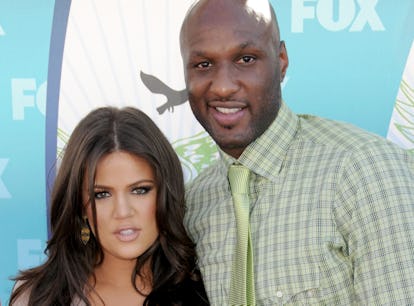 Lamar Wants To Take Khloé To Dinner, But Something's Stopping Him
"I'm too shy and I'm a Scorpio."
Gregg DeGuire/FilmMagic/Getty Images
Ten years after their split, and Lamar Odom is still talking about Khloé Kardashian. On Jan. 2, Odom's TV special TMZ Presents: Lamar Odom: Sex, Drugs and Kardashians premiered, and the show (predictably) featured plenty of conversation about one Kardashian in particular. Throughout the interview, Odom revealed plenty of details about his and Kardashian's marriage and divorce — plus, he discussed where they stand today.
Per Us Weekly, Odom had nothing but glowing things to say about Kardashian, crediting her with being "protective" over him amid his struggle with addiction. He also called their spin-off show Khloé & Lamar a "blessing." Reflecting on the show, which coincided with his 2011 title of NBA Sixth Man of the Year, Odom said, "She got me everything I wanted." Unfortunately, Odom's infidelity — specifically when he leaked a 2013 video where he admitted to cheating on her — led to their divorce in December 2016.
Though Odom reflected on the past in the TMZ special, he also discussed his future, explaining he wasn't sure if he would ever feel "secure" enough to get remarried. But he "of course" would love to reconnect with Kardashian, if the opportunity presented itself. "Do I ever think I could be in love like that again? That could possibly happen… If I open myself up enough," he explained.
Odom explained that he would love to get back together with Kardashian, but wouldn't be the one making the first move. (Does making a TV special titled after your ex's family count as a first move?) Odom said, "I'm not a loser and I felt like I lost. I would love to just take Khloé out to dinner. ... [But] I'm too shy and I'm a Scorpio and I hate being told no or being denied. I'm afraid."
That hasn't stopped him from repeatedly discussing Tristan Thompson's infidelity. In the special, he explained, "When she gets hurt, of course that hurts me. I think what hurts me more is that it's not my place to protect her. I can only protect her if she says, 'Lamar, I need your help with this.'"