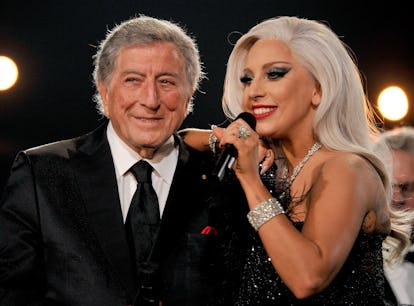 Lady Gaga Honored Her Friendship With Tony Bennett In A Sweet Tribute
"We had a very long and powerful goodbye."
Lester Cohen/WireImage/Getty Images
Nearly two weeks after Tony Bennett's death, Lady Gaga paid tribute to the late singer. It felt as though fans of both performers awaited this honor from Gaga, as the two were longtime collaborators who shared their sweetest moments on stage. On July 30, the Chromatica star wrote a heartfelt note about Bennett on Instagram, and it appears she's closely treasuring the memories they've created together.
"I will miss my friend forever," Gaga began the post, which features a touching photo of her and Bennett sharing a hug. She then praised her musical relationship with the late icon, who died on July 21 at age 96. "I will miss singing with him, recording with him, talking with him, being on stage together. With Tony, I got to live my life in a time warp. Tony and I had this magical power. We transported ourselves to another era, modernized the music together, & gave it all new life. But it wasn't an act. Our relationship was very real."
Bennett and Gaga were certainly an unstoppable duo. Their sonic relationship, which began in 2011, defined the last decade of his career, culminating in two jazz-inspired albums (2014's Cheek to Cheek and 2021's Love For Sale) and numerous performances together. Gaga was the last person to grace the stage with him in August 2021, where they performed their One Last Time special at New York's Radio City Music Hall.
Gaga continued in her tribute, adding Bennett taught her about "music," "showbiz life," and how to "keep my spirits high and my head screwed on straight." According to her, the "Body & Soul" singer had a simple motto to conquer the latter: To keep "straight ahead." This encouragement seemed to mirror Bennett's tenacity as a performer, especially after he was diagnosed with Alzheimer's in 2016. He steadily powered through his disease to release his finest work with her; however, according to Gaga, that journey was still a painful one to see.
She spoke about his Alzheimer's battle, which Bennett didn't publicly reveal until February 2021, in her note. "I've been grieving the loss of Tony for a long time. Losing Tony to Alzheimer's has been painful but it was also really beautiful," the "Hold My Hand" singer wrote. "An era of memory loss is such a sacred time in a person's life. All I wanted was for Tony to remember how much I loved him and how grateful I was to have him in my life."
Gaga added that while Bennett's "nature was changing so deeply," she would never forget him for being vulnerable with her in the final years of his career. Their sonic connection was the heart of their friendship, despite their age difference. "Though there were 5 decades between us, he was my friend. My real true friend," she said. "Our age difference didn't matter — in fact, it gave us each something neither of us had with most people."
At the end of her note, Gaga used Bennett's wise advice to encourage others to cherish the elders in their life. "Don't discount your elders. Don't leave them behind when things change. Don't flinch when you feel sad, just keep going straight ahead. Take care of your elders and I promise you will learn something special. Maybe even magical."