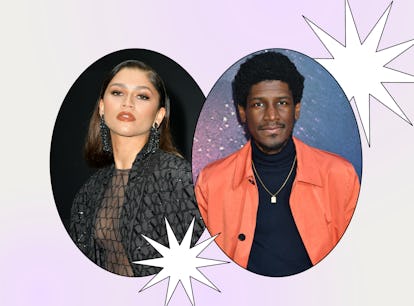 Labrinth & Zendaya's New Song Is Giving Fans All "The Feels"
Dominique Charriau/WireImage/Getty Images/ Jeff Kravitz/FilmMagic, Inc/Getty Images
It's time to give Labrinth his well-deserved flowers. Not only is he the sonic mastermind behind HBO's Euphoria, but he's seemingly the only singer that's influenced Zendaya to dip her toes back in the music scene. Well, she's not permanently back as an artist, but the features she and Labrinth have released over the years have been legendary. Their latest track, "The Feels," is yet another reminder the duo could be the sickest futuristic pop duet known to man. Labraya, maybe? Eh, probably too much.
"The Feels" is the opener on Labrinth's latest album Ends & Begins, which dropped on Apr. 28. Leading up to the album's release, neither artist hinted at the collaboration — however, it's clear music's been on both of their minds. On Apr. 22, Labrinth invited Zendaya as a surprise guest at his second week set at Coachella. This was the actor's first live performance since 2015, but that length of time couldn't be seen in her magnetic stage presence.
Zendaya's presence on "The Feels" was just as surprising. The "Replay" singer isn't credited as a feature on the song; however, many fans noticed her name tucked away under the title once the tracklist was released.
The album, which Labrinth reportedly wrote and produced himself, feels true to his composing prowess that's made him something of a fantastical genius. He knows how to build an atmosphere that's both heavenly and trippy, almost as if you're levitating through a head-spinning tunnel. He'll then add in some emotive lyrics, which only intensify the riveting production. These dramatic textures make up "The Feels," which sees both Labrinth and Zendaya describing how terrifying and euphoric it is to fall in love. Let's dive into the lyrics.
Opening with pulsing, almost folk-like keys, Labrinth describes the sensation of this romance in his own words. This verse might feel a bit dramatic, but that's the wicked beauty of love: It tends to bring the climactic poet out of us. He sings,
"I got hit by a truck / And it drove off and left me here for dead / Alone lyin' here, cryin' in the rain. I got touched by God and it f*cked me up / Like an electrical current crossing through my veins / Lightning came and hit me again."
The beginning key chords suddenly stop, before a thrashing mix of drums and gritty snarls ease in. This orchestral switch is quite impactful, as it adds a bit of melodrama to Labrinth's confession: He has the feels. In the chorus, he compares these newfound feelings to being "way up in the clouds." He's completely enveloped in his partner and that somewhat terrifies him, but he's willing to fight through that fear to continue witnessing this passion.
Without missing a beat, Zendaya breezes in with her own testimony. Toying with the lower register of her vocals, she vulnerably croons about how she's just as invested in her relationship.
"Now you got me lost in emotion / Now you got me intoxicated with your drug. Bloodstream racin', heartbeat pulsin' / The truth of it is I'm in love with you."
The two then reunite to repeat the chorus, which carries to the track's explosive ending. It's refreshing to hear Zendaya's vocals on this record, considering she walked away from the music scene nearly 10 years ago. If this year offers anything else, it needs to be another collaboration between these two.
Check out the full lyrics to "The Feels" via Genius.