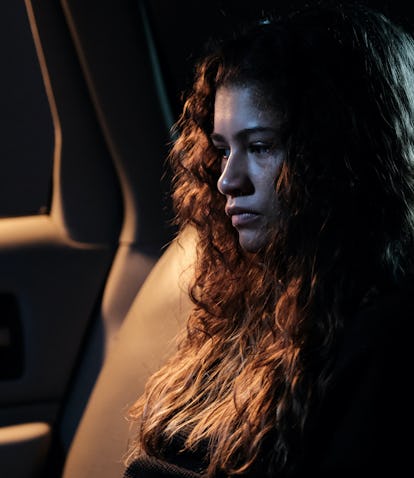 Here Are All The Songs On Euphoria's Season 2 Soundtrack
The soundtrack is full of bops from the past and present.
HBO
Euphoria's influence on Gen Z fashion and makeup trends is very clear, but the HBO drama is also a powerhouse when it comes to introducing viewers to their new favorite songs. I mean, Drake *is* one of the executive producers, after all. The show's first season was filled with experimental hip hop and alternative pop-rock from artists ranging from A-list superstars to up-and-coming unknowns. And the songs on Euphoria's Season 2 soundtrack are just as good.
Music really is a central element of Euphoria, which the show fully emphasized in its Season 1 finale. The first season ended with a totally unexpected song and dance routine, debuting a new original song by Euphoria's composer Labrinth and star Zendaya called "All for Us." The synth-y hip hop track marked Zendaya's long-awaited return to music, and it was also a totally unique way to wrap up Season 1 and put a spotlight on music's powerful role in the series. As the track played, Zendaya's character Rue moved through choreographed scenes on a psychedelic journey after relapsing.
There's no guarantee that Zendaya will bless us with another surprise song release in Season 2, but here's hoping!
Even if fans don't get a new Zendaya song, the second season of Euphoria is already stacked with throwback hits from legends like 2Pac and Poison, as well as recent hits from buzzy artists like Orville Peck and Big Mali. If you're looking for your next turn-up anthem, check out all the songs that have been featured in Season 2 of Euphoria. You can also keep up with all the tracks on HBO's official Euphoria Spotify playlist.
Euphoria Season 2, Episode 1 Soundtrack
"Don't Be Cruel" by Billy Swan
"I Want Action" by Poison
"Hit 'Em Up" by 2Pac
"Right Down the Line" by Gerry Rafferty
"Dirty Work" by Steely Dan
"Nate Growing Up" by Labrinth
"Dead of Night" by Orville Peck
"Hypnotize" by The Notorious B.I.G.
"Runway" by Blaq Tuxedo
"Back That Azz Up" by Juvenile, Lil Wayne, and Mannie Fresh
"Uhuh Yeah" by G.L.A.M and Colbie
"DIRT" by B.O.B
"Party Up" by DMX
"Madonna" by Tarik
"4,5,6" by Big Mali
"The Lake" by Labrinth
"(I Just) Died In Your Arms" by Cutting Crew
Euphoria Season 2, Episode 2 Soundtrack
"Live or Die" by Noah Cyrus, Lil Xan
"I've Never Felt So Alone" by Labrinth
"Come Rain or Shine" by Judy Garland
"Do What You Want, Be What You Are" by Daryl Hall & John Oates
"Haunted" by Laura Les
"Right Down The Line" by Gerry Rafferty
"She Brings The Rain" by Can
"Return of the Mack" by Mark Morrison
"Blue Monk" by Thelonious Monk
"Outlast (feat. Dueling Experts, Apollo Brown, Joell Ortiz)" by Mello Music Group
"seaside_demo" by SEB
"Hennythings Possible" by Vintage Lee
"WTF Are We Talking For" by Labrinth
Euphoria Season 2, Episode 3 Soundtrack
"Mystify" by INXS
"Never Let Me Down Again (Digitalism Remix)" by Depeche Mode
"The Look" by Roxette
"Chains of Love" by Erasure
"Lips Like Sugar" by Echo and the Bunnymen
"She Sells Sanctuary" by The Cult
"It Ain't Over 'til It's Over" by Lenny Kravitz
"I Can Dream About You" by Dan Hartman
"Never Tear Us Apart" by INXS
"Call Me Irresponsible" by Bobby Darin
"Como La Flor" by Selena
"Emotions" by Brenda Lee
"Gangsta Nation" by Westside Connection Feat. Nate Dogg
"If" by Jo Stafford
"Watercolor Eyes" by Lana Del Rey
Euphoria Season 2 airs Sundays on HBO and HBO Max.
This article was originally published on