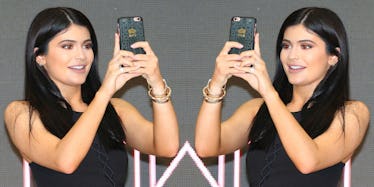 5 Reasons Downloading Kylie Jenner's App Is Actually Worth The Price
Getty Images
If you don't have the Kylie Jenner app, you're missing out.
Since 2007, we've watched Kylie Jenner grow up before our eyes.
Her transformation from an awkward middle schooler to a plump-lipped beauty and fashion icon has been on display for half of her life.
Though it probably hasn't been easy, Kylie has turned her fame into a platform, making her one of the most popular names in the world.
Kylie has managed to step out of her older sisters' shadows and become her own cultural phenomenon.
Some even say she's dethroned her older sister, Kim Kardashian.
She has quickly grown into a style icon and become the pinnacle of beauty for many young girls and 20-somethings like myself.
Whether it's her infamous lips or myriad of hair colors, Kylie is always making a statement.
Kylie's new app is the motherload for all those who are Kylie obsessed.
The app comes with a lot of behind-the-scenes content of what makes Kylie, Kylie.
As someone who has probably spent way too much time submerged in this app, I can say with certainty it's worth the $2.99 a month.
There really is something for everyone:
1. Kylie's Signature Look
Kylie's makeup and hair are probably the most sought-after aspects of her look.
One of the features of her app includes video tutorials of how Kylie gets her signature style.
Kylie's glam squad, which includes top celebrity makeup artist Hrush Achemyan and hair stylist Jen Atkin, walks viewers through her process of getting ready for the day or night.
Through these tutorials, fans get expert tips on how to achieve Kylie's flawless makeup and hair.
The videos include all of the products used on Kylie, as well as the prices of the items.
The beauty section also features a series called "Help! My Face is F#cked!" in which YouTube star GiGi Gorgeous helps fix common makeup mistakes.
2. Kylie's Fabulous Style
For fans of Kylie's fashion sense, the "Looks" section is for you.
This is great for getting inspiration for your own wardrobe.
She provides pictures of some of her favorite outfits, as well as cheaper alternatives for what she's wearing.
Not everyone can afford a $1,000 dress, so fans can get her look without breaking the bank.
Even better, the alternatives have direct links to their websites for purchase.
King Kylie also gives updates on what trends she's loving at the moment.
3. The Music
One of my favorite features of Kylie's app is the radio.
Kylie said she spent a long time curating a collection of her favorite music just for the app, so it's great to be able to share music with your style icon.
Fans can discover new music or enjoy their favorites all in one place.
The most prominent artists of her radio are J. Cole, Drake and of course, Kylie's boyfriend, Tyga.
4. Discovering The Next Big Thing
Kylie definitely shares the love on her site.
Features on up-and-coming musicians, stylists, hairdressers and nail artists are all over the app.
These are all people Kylie feels passionate about and wants to share with the world.
The features consist of Q&As and brief backgrounds on these talented subjects.
Some of the music artists featured on the app are Alessia Cara and Justine Skye.
Hair stylist Kelly O. is also has a feature.
5. The Livestream
If you're "krazy for Kylie," another great feature for every fangirl is the Kardashian-Jenner livestream.
This livestream gives Kylie lovers a more in-depth, unfiltered look into her life.
During the livestream, you can watch Kylie goof around with her friends and sisters, answer fan questions from Twitter or Instagram and give updates on her upcoming projects.
The app sends notifications to your phone whenever Kylie livestreams, but in case you miss it, the videos go up on the app permanently after the stream is over.
Livestream videos aren't the only way to get to know Kylie better.
For those of us who aren't ashamed to admit our nosiness, Kylie's house tours will definitely satiate your appetite.
Viewers get a close look into the kitchen, living room and bedroom of Kylie's new $2.7 million home.
She also addresses rumors about her in the press, her thoughts on matters like leaving the nest and her life with a family we can truly never get enough of.
So basically, if you're krazy for Kylie and haven't downloaded her app yet, you're doing something wrong.
Do yourself a favor, and download it ASAP.
Who else doesn't want her style icon right in her pocket?