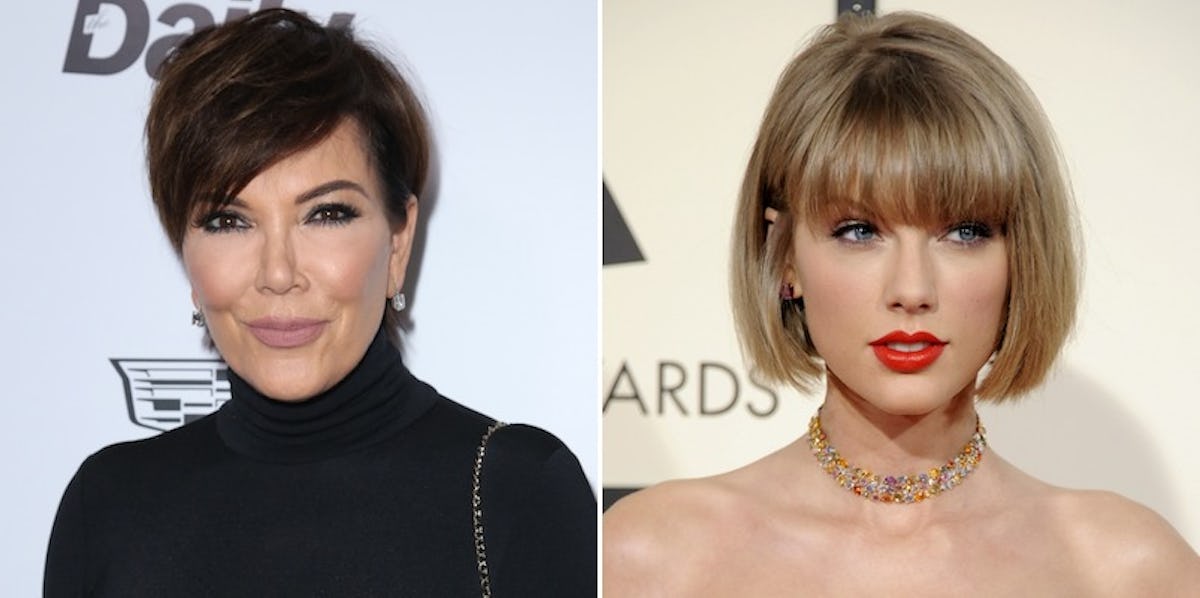 Kris Jenner Had A Lot To Say About Taylor Swift And Tom Hiddleston's Relationship
REX/Shutterstock
Once Kris Jenner publicly acknowledges your relationship, consider it official.
In an interview with Australian radio station Kyle & Jackie O on Friday morning, businesswoman and Kardashian mastermind Kris Jenner shed some light on her thoughts regarding Taylor Swift and Tom Hiddleston's relationship.
According to E! News, Jenner was asked if she felt that "Hiddleswift" was a publicity stunt, to which she replied,
I would doubt that. I don't know any of the details about her relationship or any of that, but she's lovely and I'm sure just like anybody else, when you date somebody in this town, everything becomes a photo shoot and there are people following you around and taking pictures. I think that only Taylor and whoever she's with knows what's going on in that relationship.
In other words, no, she doesn't think it's a publicity stunt, though many of us wouldn't be surprised if it is (despite the fact that Tom Hiddleston already confirmed the relationship to be VERY REAL).
Still, it's pretty hard to tell. After all, Taylor Swift could've hooked up with a literal potato after ditching Calvin Harris and the paparazzi would still snap away and plaster them all over magazine covers, giving off the impression that the relationship might be staged.
Jenner continued,
Like anybody else, it's just like my girls, I want everybody to find whatever happiness that makes them happy. I think when you're young and you're dating and you have a very public life, it's got to be really hard.
Indeed. If anyone knows what its like being young and dating in the public eye, it's Kris's youngest daughter Kylie Jenner. For months now, the 18-year-old lip kit mogul and rapper Tyga have been on and off. You can't help but wonder if it has something to do with the media being all up in their business, or if they're just having problems internally.
Regardless, I'm sure the gangs of paparazzi swarming them every second doesn't give them time (or space) to think.
Toward the end of the interview, Kris Jenner circled back to her thoughts on Taylor Swift, saying,
She's great and I wish her the very best. She has an amazing family and a wonderful mom and she's just trying to navigate, trying to date in this public eye just like everybody else.
Now, Mama Jenner's feelings on T Swift are completely separate from Kim Kardashian's thoughts on the singer. You do know that right?
In a sneak peek at an upcoming episode of "Keeping Up With The Kardashians," Kim speaks on the comments she made in a recent interview with GQ regarding the long-standing feud between husband Kanye West and Taylor Swift, revealing,
I never talk shit about anyone publicly, especially in interviews. But I was just like I had so had it. I feel like I've had it with people blatantly treating my husband a certain way, making him look a certain way. Kanye is always so honest and speaks his mind. And you know, when we were first dating, people would always talk shit and he always had my back. At this point, I really don't give a fuck so I'll do whatever to protect my husband.
Well, I guess we know what Kris Jenner and Kim Kardashian DON'T have in common.
Citations: Kris Jenner Sounds Off on Taylor Swift & Tom Hiddleston's Romance: ''She's Great and I Wish Her the Very Best'' (E! News)