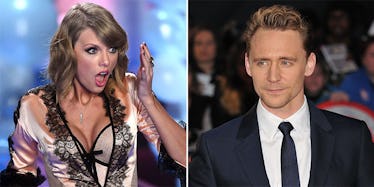 Tom Hiddleston Finally Speaks Out About His Relationship With Taylor Swift
REX/Shutterstock
It seems like Tom Hiddleston is ready to open up about his newly established relationship with Taylor Swift.
Ever since Swift broke up with Scottish DJ and producer Calvin Harris, Hiddleston's connection with the 26-year-old singer has been accused of being nothing more than a publicity stunt.
Hiddleston, who's been very tight-lipped about the whole thing, is finally shedding some light on the relationship.
Just after the release of the 2016 Emmy nominations, which included Tom's nomination for Lead Actor in a Limited Series or Movie, Hiddleston revealed the status of his relationship with Swift. He told MTV,
We are together and we're very happy.
Now, I know what you're thinking. That's not going to be enough, Tom. We're going to need some more clarification...
As if this photo isn't enough proof.
Luckily, in another interview with The Hollywood Reporter regarding his nomination, 35-year-old Hiddleston confirmed,
Well, um. How best to put this? The truth is that Taylor Swift and I are together, and we're very happy. Thanks for asking. That's the truth. It's not a publicity stunt.
It looks like the Emmy award nominee plans on putting the rumors and speculation of a fake relationship to rest. I can't say I blame the guy. You would think Hiddleston's epic "I <3 T.S." tank top would have done the trick already!
In the midst of all this, I can't help but anticipate another epic Twitter rant from Calvin Harris on the matter.
Currently, Tom Hiddleston and Taylor Swift are in Australia together for the filming of Tom's new movie "Thor: Ragnarok."
Citations: TOM HIDDLESTON DID A 'SHAKE OF HAPPINESS' AFTER FINDING OUT ABOUT HIS EMMY NOMINATION (MTV News)