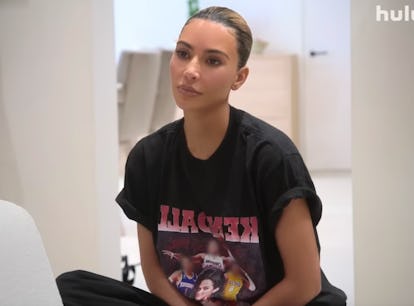 Kim Wore A Shirt Shading Kendall's NBA Exes & Fans Are Loving It
Hulu
Kim Kardashian isn't above a little sisterly teasing. In the trailer for Hulu's The Kardashians Season 3, Kim sports a shirt that references Kendall Jenner's NBA exes — and the punny tee isn't exactly supportive of Kendall's taste in men. "Kendall's Starting Five," the shirt reads, featuring photos of Kendall and her basketball-ing exes: Devin Booker, Ben Simmons, Blake Griffin, Kyle Kuzma, and Jordan Clarkson.
A little Kendall dating history recap: The model's first NBA fling was with Jordan Clarkson in 2016. Later, from August 2017 to April 2018, she was with Blake Griffin. She started seeing Ben Simmons in the summer of 2018, and they were together for almost a year before calling it quits (although they were spotted a few more times together post-breakup, including the 2020 Super Bowl). Kyle Kuzma and Kendall dated for a brief period in the summer of 2019. Her latest NBA beau, Devin Booker, was her longest relationship. The pair dated for over two years, from April 2020 to October 2022.
Kendall has kept her relationships pretty private, but she did once respond to comments about her type (see: tall, athletic, and holding a basketball). In April 2020, when someone tweeted, "Nba players passing around Kendall Jenner," and a fan replied "Maybe she passing them around 🤷," Kendall chimed in. "they act like i'm not in full control of where i throw this cooch," she tweeted back.
Kendall might not like strangers commenting on her type, but hopefully she doesn't mind her sister's antics as much — particularly because it looks like this shirt is only going to get more popular.
After the trailer was released on Apr. 27, fans were quick to point out Kim's wardrobe choice, and they had fun with it on Twitter and TikTok. "THE SHIRT PLS 😭😭😭," one wrote. Another tweeted, "Screaming at the Kendall Starting Five tee popping up in their new trailer." Some even got inspiration for their own t-shirt designs. "That's so slay I'm making one with my exes," one TikToker commented. Fans also found where they could buy the top for themselves — and it's available on Etsy for under $20. But, JSYK, it's already in over 20 carts as of publication. If you want it, you might want to buy it soon.