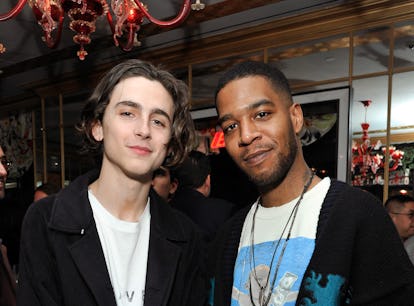 Kid Cudi Responded To Rumors That He Has Beef With Timothée Chalamet
Fans think their friendship took a turn recently.
For the past decade, Timothée Chalamet's close friendship with Kid Cudi has delighted fans of the duo. So rumors of a bestie breakup obviously devastated everyone who had been following the pair for years. After the gossip went viral on TikTok, Cudi himself stepped into the chat to clear up where he stands with Chalamet now.
The whole controversy started when a Chalamet fan account posted that Cudi had unfollowed Chalamet on social media, speculating that Cudi was showing his disapproval of Chalamet's new relationship with Kylie Jenner. Since Cudi is so close with Jenner's ex Travis Scott — the frequent collaborators are even working on a joint album together — fans believed that Cudi was distancing himself from Chalamet as a show of support for his fellow rapper. But Cudi made it clear that wasn't the case at all.
"Timmy is my brother 'til the end of time and beyond. I will always ALWAYS love him," Cudi emphasized on Twitter in response to a fan bringing up the rumors. "We are good. Trust me. Idk where this is coming from, but please don't believe the gossip online y'all."
Cudi also pointed out that he had just shouted Chalamet out on his newly released single "Most Ain't Dennis." "Doin' movies, TV shows out with Timmy," Cudi raps on the song, referencing his frequent collaborations with the actor. Chalamet appeared in Cudi's 2021 documentary A Man Named Scott, as well as his 2022 TV special Entergalactic. The two also worked together in the star-studded environmental dramedy Don't Look Up, and briefly in the HBO series We Are Who We Are.
Cudi and Chalamet's friendship began in 2013, when Chalamet was a superfan of the performer and showed up at one of his concerts in Montreal. Cudi recalled that he hit it off right away with Chalamet, and views him as his younger brother, often giving him advice and encouraging him in his acting career.
Thankfully, it sounds like the Cudi and Chalamet friendship is just as strong as ever, despite the TikTok gossip.