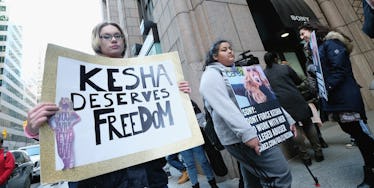 Kesha's Mom Says Dr. Luke 'Basically Owns Kesha,' Even If Sony Cuts Ties
Getty Images
With the exception of a few tweets, a small video thanking fans and a speech she made accepting the Human Rights Campaign's Visibility Award, Kesha largely stayed quiet after a Manhattan court ruled against her request to cut ties with Sony over her accusations she had been verbally, physically and sexually abused by her manager, Dr. Luke, for 10 years.
Amid the somewhat positive news Sony allegedly dropped the music manager -- Dr. Luke claims Sony didn't -- Kesha's mother shared a small insider's glimpse at the fallout from the case and what Dr. Luke (whose real name is Lukasz Sebastian Gottwald) put Kesha through during his time managing her.
In a heartbreaking interview, Kesha's mother, Rosemary Patricia "Pebe" Sebert, revealed to Billboard,
[Kesha] was a prisoner. It was like someone who beats you every day and hangs you from a chain and then comes in and gives you a piece of bread. Luke would say, 'You look nice today,' and send her into ­hysterics of happiness because she was programmed to expect nothing but abuse.
Pebe also addressed how Kesha initially didn't want to talk to the police or report Dr. Luke at all.
She said,
Looking back, I don't know why we didn't go to the police. Kesha told me not to do anything. She said, 'Mom, I just want to sing. I don't want to be a rape-case victim. I just want to get my music out.' I didn't follow my instincts.
Pebe added,
I wanted Kesha to come forward a long time ago and end this relationship with Dr. Luke immediately after the [alleged] rape. But if she wanted to have a shot at the music business, she had no choice but [to work with him].
She also claimed,
Kesha would tell me she was going to take her car to Mulholland and drive off the cliff. She was a little dramatic, but I never knew for sure.
Pebe also addressed Kesha's struggles with eating disorders, saying she believes they were tied to her daughter's struggles with Dr. Luke. She explained,
Bulimia is a control issue. I really believe that the further this thing got with Dr. Luke, the less control she had and the worse her bulimia got, because it was the only thing [that gave her] control.
Apparently, Kesha was shocked at Taylor Swift's $250,000 donation after the court's decision, originally thinking it was some sort of hoax.
Pebe told Billboard,
Kesha was like, 'Are you sure it's not some scammer?' And then she said, 'I would be honored if she wants to do that.'
The good news is Pebe said Kesha is recovering from the experience.
She said,
Kesha is so much better now. She wasn't comfortable with having to do this, but I think she realized as this thing progressed that she can advocate for sexual abuse or other things. The fact that she is at peace with that has really been healing.
Though the case is still pending, one thing is pretty evident: It will be very hard for Dr. Luke to gain any substantial traction in the record industry going forward.
A manager and long-time acquaintance of Dr. Luke pointed out to Billboard,
He's f--ed. He's done. He has rarely had success working with guys, and virtually every big female star in the world has come out against him. Why would anyone work with him now?
Let's hope that is true.
Citations: Kesha's Mother: My Daughter "Was Like a Prisoner" of Dr. Luke (Cosmopolitan), The Saga of Kesha, Dr. Luke and a Mother's Fight: 'He Almost Destroyed Us' (Exclusive) (Billboard)