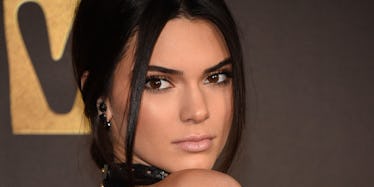 Why I Don't Think Kendall Jenner Is All That Great
Reuters/Phil McCarten
I don't think Kendall Jenner is all that. I know you hate me. I've already braced myself for the amount of backlash I'm going to get for saying this.
I want to clarify something before all of you get up in my grill: My general anti-Kendall attitude is not so much a vendetta against her as it is a voice championing for the models who don't necessarily get the same shot at fame that Kendall did.
I'm talking about those people who bust their asses to get their names and faces out there, like the "America's Next Top Model" wannabes. Those no-names aren't starving themselves, working out excessively and following a brutal skincare regimen for no reason.
Kendall was signed to Wilhelmina Models at the age of 13 without any real portfolio of modeling experience. In the very beginning, Kendall was not even seriously interested in pursuing a modeling career. Do you guys remember that episode of KUWTK? Kim K. took her to modeling practice (I don't know what that is, but it sounds serious), and Kendall stormed out saying something like "I don't even want to be here!"
To know that someone who was practically gift-wrapped the opportunity to walk in famous shows is probably not appreciating her fame as much as an Average Joe model coming from less opportunity would is a little unsettling.
Does Kendall meet the height and weight requirements to be a model? Yes. Is she a gorgeous girl? Of course. Despite her past disposition when it came to modeling, is she kicking ass now that she has the platform and resources to model well? Sure.
But we can't forget her attitude at its inception, nor can we forget the fact that she was given a jump-start thanks to Momma Kris. Oh, and we absolutely, 100 percent cannot put her on the same pedestal that we put someone like Jay-Z on, whose modest background includes being raised in a housing project in deep Brooklyn.
Kendall's rise to fame simply isn't as dignified as that of other celebrities, and that's straight fact. Unfortunately for her, that fact alone cheapens her stardom and supposed talent -- for me, anyway. But we do give her the same appraisal as we do for the people who didn't buy their way into fame. Chick's got more Instagram followers than anyone I know.
Here's the skinny (pun intended): What about all the other gorgeous models in the world who have the same exact measurements and bone structure as Kendall? The ones who came to the U.S. from, like, Yugoslavia and have to subsist on random, non-contract modeling gigs, amongst other side-jobs, to pay their rent in a one-bedroom filled with six other girls? The ones who wanted it more and are probably better at it than she is?
But back to Kendall. We're talking about a girl who joined a pack of seasoned models to star in the Victoria's Secret Fashion Show, one of the biggest televised live shows there is. Heidi Klum has walked in more than one. It's no joke.
And apparently, "the average age of the models on the Victoria's Secret catwalk is much older than a fashion-week catwalk; and this year's Fantasy Bra models Adriana Lima and Alessandra Ambrosio (both on their 15th show) are in their mid-thirties." Kendall was 20 years old when she walked in the same show.
I know I'm not the only girl in the world who feels this way about K-Jen. It was reported that Kendall was bullied backstage at New York Fashion Week one year because they felt as though they worked a thousand times harder than she did to get to the same spot. The other models ashed their cigarettes in her drink (ouch).
Now, I'm not in any way a proponent of bullying for any reason (hell, I'm vehemently against it), but blogger Arisce Wanzer also makes the point that Kendall's place in the modeling world has taken the art out of modeling and turned it into a popularity contest. As far as popularity contests go, I am not a fan of those. Kendall is clearly winning the contest because she got a head start.
People will argue with me and tell me Kendall is a good model. "At least she knows how to model," my one co-worker said. But it isn't about just knowing how to model. It's about having had the itch to model from the moment she saw her very first fashion show. It's about a visceral reaction; it's about living to model.
Maybe I hate what Kendall stands for more than I hate Kendall. She's the 1 percent of the model world. The Kendall Jenners of the world (Gigi Hadid, I'm lookin' at you, too) had a little help. We're in a new era now, a Kate Moss-less era of less-than-legendary celebs, and unfortunately, not all of us get to be Kardashians. Or Jenners. But whatever.
All I know is that if Kris Jenner had suggested Kendall go into dentistry instead, Kendall would probably have nodded her head and gone along with it. And something tells me she'd be just as satisfied, and we'd all be sitting back admiring how great a dentist Kendall is because she had more than enough time, money and fame to train for it.