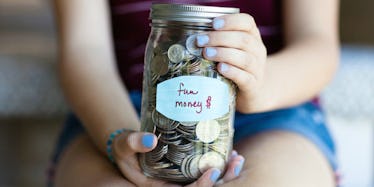 9 Creative Ways To Make Money When Your 9-To-5 Income Isn't Cutting It
As a 20-something living in New York City, my budget is pretty tight.
Sure, I could stop going out and put the money I'd spend on drinks toward an investment account. Or I could hold on to my lifestyle and add more income through side hustling.
I recently started researching different ways to generate more income outside of my day job, but I wanted to get creative. I don't like children, so I can't help but roll my eyes when someone recommends babysitting.
This month alone, I have almost generated enough extra money ($1,000) to open an IRA account. I earned the money through side hustles, like selling stuff I don't need anymore on eBay.
Once you start side hustling, you'll feel like a total dummy for waiting so long to start. Making extra money will always feel more satisfying than cutting out small, enjoyable expenses like your daily Starbucks run.
For some inspiration, here are nine great side hustles for women.
1. Auction off the clothes you've only worn once.
Guess what's more useful than an a designer blazer you never wear? Money! You probably have enough unworn, forgotten clothes sitting in your closet right now to afford a new wardrobe.
Selling clothes is easy because there are many ways to do it. Online websites like eBay, Tradesy, Poshmark and thredUP cater to the thrift crowd. Or, sell in person at local consignment stores, where you can trade gently used clothes for cash or store credit.
When all else fails, don't forget about the good ol' yard sale. I bought my favorite pair of cowboy boots out of some lady's trunk for a dollar. She was hustling.
2. Donate your eggs, since you're probably not using them yet.
Aside from earning you up to $20,000, donating eggs is an act of kindness toward women who have trouble conceiving. Sound too good to be true? That's because it might be.
Donating eggs is tricky because it's an intensive process involving hours of paperwork, interviews and FDA-regulated screenings. In order to be eligible, you'll have to fall between the ages of 21 and 32, be in excellent health and abstain from all drugs. In the end, you'll have to undergo surgery to retrieve the eggs.
This isn't the side hustle for someone who wants a quick pay day, but it's worth it if you want to help other women and can handle the physically and emotionally straining process.
See also: donating plasma.
3. Sell your hair, because then you're basically getting paid to have it cut.
Thinking about chopping off your hair? You can sell that, too. At Hair Sellon you can calculate how much your hair is worth based on inches, thickness, color and quality. It could earn you anywhere from $50 to $900.
For example, six inches of thick, auburn, never-dyed hair (like, ahem, mine) is worth almost $200, according to Hair Sellon's calculator. You may be out of luck if your hair has been chemically treated or dyed, as "virgin" hair is preferred.
4. Become a production fit model on the side, and brag about it to everyone.
Production fit modeling largely consists of standing still while mass-market designers fit their styles and patterns to models who wear popular sizes like 2, 6 and 8.
For this to work, you need to easily fit standard sizes -- the kind you see in stores when trying clothes on -- and live somewhere like New York City or Los Angeles, where retailers fit clothing. You don't need to be "model thin." You just need to have a body that exactly fits a retailer's standard sizes.
Oh, and you can basically never gain or lose a pound ever again. But, hey, it pays up to $250 per hour.
5. Trade opinions in a focus group, because everyone wants to know what you think.
Want to get paid to be outspoken? Focus groups are the perfect side hustle for that.
These meetings are basically how brands and companies get information directly from the demographic of consumers they're trying to reach. It helps them figure out how to brand and market their products. Plus, you can make anywhere between $50 and $300 per sitting.
Look up what sessions are happening by city and prepare for a time-consuming side job. Luckily, you'll be getting paid well.
6. Sell your used panties. I'm not even kidding.
Next time you throw out an old pair of panties, remember there's probably some guy out there who would actually pay money for them. I'm not going to explain why men would want used panties, but I'm sure you can connect the dots.
Sites like Panty Deal allow you to set up shop and decide on prices yourself. You can even build a base of loyal customers without ever seeing or meeting them.
7. Make money off your hair and beauty skills, because you're probably already a pro.
Are your friends always begging you to do their makeup and hair? Don't let that talent go to waste.
A good way to start out is by practicing on your friends and taking photos to post on a personal website or a freelancer service website like Guru. Just don't forget to make business cards and get testimonials.
8. Become a personal shopper and bless others with your talent for fashion.
Yes, we do live in a world where you can get paid to go shopping.
This is a side hustle you can also take online and do remotely, by being an online personal shopper. Either way, people will pay you for your time on sites like People Per Hour.
Just like freelance makeup artist or hair stylist work, your business will rely heavily on testimonials and visuals.
9. Monetize your blog.
Are you an expert at whipping up food porn-esque meals? Do you have your finger on the pulse of the hottest beauty and fashion trends? Niche blogging could be the side hustle for you.
Starting a blog is an investment. It takes a few minutes to get set up, but it can take years to grow a solid base of loyal readers. Host ads that make money based on traffic, or offer a remote service like graphic design. You can also write sponsored content where brands pay you to write about their products so they can reach your audience.
No matter what your lifestyle is, there's always time to make extra money.
Your side hustle is a chance to explore other industries or push your entrepreneurial limits, all while maintaining your regular boring day job. It shouldn't be a miserable grind, it should be an enjoyable (and hopefully lucrative) adventure.