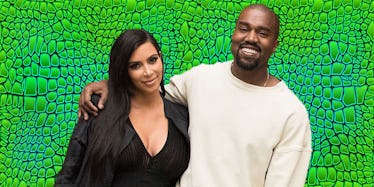 Kanye West And Kim Kardashian Shaded Taylor Swift Again In This New Interview
REX/Shutterstock
Everyone, let's quickly take a moment to say a prayer for Taylor Swift. The girl needs all the help she can get.
*MOMENT OF SILENCE*
OK, now that that's over, let's talk about how Kim Kardashian and Kanye West threw major shade at Taylor in their latest interview. YUP, it just keeps getting worse.
For the past couple of weeks (feels like years, TBH), Kimye and Taylor Swift have been feuding over Kanye's song "Famous."
The couple has dissed the 1989 singer on several occasions and Tay has fired back defending herself on Instagram.
It's been a real treat to watch. My newsfeed has never been more poppin'.
But the drama just got taken to a whole new level after Kimye threw shade at Taylor while speaking to Harper's Bazaar.
The couple was interviewed for their September cover shoot, so Harper's asked them a few fun questions about their favorite things.
They were first asked what their favorite song is of all time. Kanye shared he loves the Jim Hendrix cover of "All Along the Watchtower." Kim said she loves Kanye's "Only One" featuring Paul McCartney.
Then the duo was asked to name their favorite Taylor Swift song. LOL, YOU KNOW THINGS ARE 'BOUT TO GET UGLY NOW.
Kanye threw the shade first by answering,
For me? I don't have one.
WHAT A BURN. Kim topped it by adding,
I was such a fan of hers.
Keyword: "WAS." Man, these two really aren't trying to hide their feelings.
Sorry, Taylor Swift, it looks like you lost a couple of fans and gained a whole lot of bad blood.
Citations: Kim Kardashian Kanye West Interview (Harper's Bazaar)