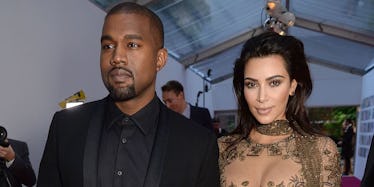 Kanye West Opens Up About Kim Kardashian's Nude Selfies
REX/Shutterstock
Kanye West and Kim Kardashian are the ultimate power couple.
The "Famous" rapper and "Keeping Up With The Kardashians" star got super real about their relationship for Harper's Bazaar's ICONS September issue.
The cover stars were interviewed together for their shoot and discussed everything from fashion and fame to nude selfies.
Kim Kardashian has broken the Internet several times by posting pics of her naked bod, so what does her hubby think about his wife showing off her figure?
Interestingly enough, Kanye West had a lot to say on the matter.
When Harper Bazaar's Laura Brown asked the couple what their favorite selfie pose is, Kim Kardashian said she loves mirror selfies. Who would have known?!
Kanye answered the question too and explained he loves Kim's nude selfies. He shared,
I love the ones from the side, the back ones and the front. I just love seeing her naked; I love nudity. And I love beautiful shapes. I feel like it's almost a Renaissance thing, a painting, a modern version of a painting. I think it's important for Kim to have her figure. To not show it would be like Adele not singing.
DAMN, the man is a fan. When Kim gets naked, Kanye compares her to a Renaissance painting. When I get naked, men cry.
But not everyone is a fan of Kim posing nude on the Internet. Chloë Grace Moretz has criticized the mother of two for not being a good role model for young women.
Other stars, such as model Emily Ratajkowski, have defended Kim's nude selfies, so it does seem like people are divided over the NSFW photos.
If you're curious about my opinion (HEY! WHAT'S UP, GUYS? I'M IRRELEVANT!) I think Kimmy can do whatever the F she wants.
Her body, her rules.
Plus, if I looked like that, I'd never wear clothes again.
Citations: Kanye West Kim Kardashian (Harper's Bazaar)