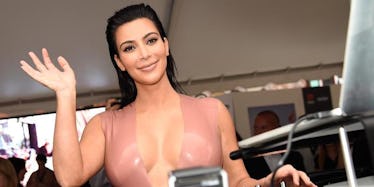 Kim Kardashian Shares Completely Naked Selfie Because She Had 'Nothing To Wear'
Getty Images
UHHHHHH, DAYUMMMMMMMMMMMM.
Kim Kardashian West posted a picture of herself to Twitter early Monday morning that defies all logic and reason. If you weren't convinced Kim K was created inside of a lab as part of an experiment to make perfect, marketable, ageless cyborg humans, this may sway you.
Keep in mind, this is the naked mirror selfie of a woman who literally just gave birth a few months ago.
Nothing to wear? HAHA LOL! ROFL!
HOW IS THIS EVEN POSSIBLE?!?! THIS ISN'T THE WAY BODIES ARE SUPPOSED TO WORK!
I don't know what's more unbelievable: Kim somehow not having clothing to wear despite the fact that her job is literally to just wear clothing or the lie we've been told that she isn't a vampire.