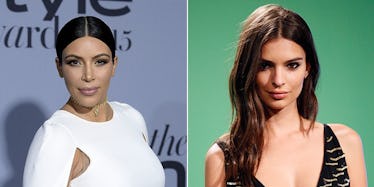 Kim Kardashian Just Posted A Topless Selfie With Emily Ratajkowski
REUTERS/Kevork Djansezian/Danny Moloshok
Kim Kardashian West, once again, has nothing to wear.
This girl really has to go shopping or something because, for some reason, her closet is always empty!
The last time she couldn't find any clothes, Kim posted a completely nude photo to Twitter to inform her fans. How thoughtful.
Well, the "Keeping Up with the Kardashians" star just posted another topless photo, but this time, she's with a friend.
Yup, that's Emily Ratajkowski, topless and proud.
It looks like Kim and Emily aren't feeling the bras today and just want to let their girls fly free. No judgment, it feels nice to get some fresh air, am I right?
The last time Kim posted a nude on Twitter, it received quite a lot of backlash. Perhaps, this time, we can all be more courteous of Kim's decision to #freethenip and just take our tops off with her. IDK, just a suggestion.