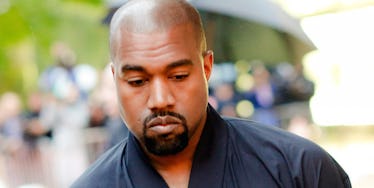 These 'Deleted Scenes' From Kanye's 'Famous' Music Video Are Amazing
REX/Shutterstock
By now, I'm sure you've at least heard about Kanye West's new music video for "Famous."
It features a continuous shot of wax figures representing the bodies of famous people such as Kim Kardashian, Taylor Swift, Caitlyn Jenner and Donald Trump.
The bodies were placed next to one another, sleeping completely naked in the same bed. A painting by Vincent Desiderio was said to be Kanye's inspiration.
As you can imagine, there has been quite a lot of controversy surrounding the piece. Stars such as Lena Dunham have shared their disgust with the music video, while others have praised the rapper for his bold artistic choices.
Regardless of your opinion on the matter, I think everyone should see two special deleted scenes from the video.
Yup, there are two never-seen-before scenes Kanye forgot to include. Silly Kanye. Don't worry, we've got you covered.
The first deleted scene features a comedian we all know and love. Stephen Colbert aired a spoofed segment of the shot on "The Late Show With Stephen Colbert."
You can check out Stephen Colbert's cameo in Kanye West's "Famous" music video below.
But Colbert isn't the only one who got stirred up in the controversy. Jimmy Kimmel created his own parody of the video... except, he wasn't in it.
Nope, Jimmy's sidekick, Guillermo, was the star of this spoof. You can check it out in the video below.
Guillermo, you're the real MVP.