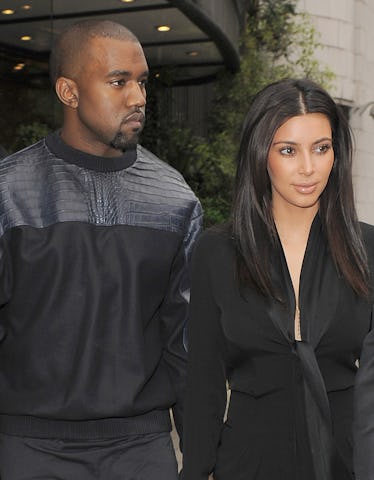 Woah, Kanye Put Kim On Blast For Divorcing Him On His New Album
Will/GC Images/Getty Images
Kanye West's Donda album had been in the works for a long time. Initially, West announced the album would drop on July 23. But when the day came, Donda still wasn't here — which is *so* Kanye. The only taste of the album fans got to hear was at his three album listening parties leading up to the unspecified release date. No one knew quite what to expect from the record, but amid the rapper's divorce from Kim Kardashian, they did presume there would be a song or two about his estranged wife. On Sunday, Aug. 29, the long-awaited album finally dropped, and fans were right to assume he'd name-drop his ex-wife. Kanye West's Donda lyrics about Kim Kardashian have everyone talking.
West's Donda album was previously titled Donda: With Child, and was originally supposed to arrive in 2020. After a long wait, fans were beyond ready to hear what West had been cooking up in the studio. The rapper even added a little shock factor to the mix. Not only did he sprinkle in some lyrics about his ex, but he included her in his final Donda listening event. The former couple shocked fans by reenacting their May 2014 wedding during the show.
But on first listen, Donda actually isn't about Kardashian at all. Donda is the name of West's mother, who passed away in November 2007. West has been candid about the toll her passing took on his mental health, and much of the album is centered around her. However, there are several songs that clearly reference his relationship with Kim K, and it's being hailed as one of his most personal albums to date.
"Off The Grid"
West very clearly alluded to his relationship with Kardashian in "Off the Grid," featuring Playboi Carti and Fivio Foreign. The high-energy track is clearly dedicated to West and Kardashian's children — North, Saint, Chicago, and Psalm — given that the chorus is, "This for my kid."
The song also delves into West's personal life over the last few years, especially his decision to go "off the grid" and live in a Wyoming ranch amid public marital issues with Kardashian. In his verse, West raps: "Had to move away from people that's miserable / Don't wanna link you, I ain't finna sit with you / Ain't finna talk to you, ain't finna get with you / Don't get me mad just 'cause I don't wanna injure you / She put my paintings inside of her living room / Look at the problems and issues I'm livin' through."
Later in his "Off the Grid" verse, West also mentions his connection with Kardashian: "I pray that my family they never resent me / And she fell in love with me as soon she met me."
"Hurricane"
West straight-up name-dropped Kardashian on the song "Hurricane." In one verse, West raps about rumors surrounding his marriage, asking Kardashian if she really loved him: "Heated by the rumors, read into it too much / Fiendin' for some true love, ask Kim, 'What did you love?' / Hard to find what the truth is but the truth was that the truth suck."
He also alluded to the fact he's often away at their second house in Wyoming while Kardashian chose to stay rooted in Los Angeles. "It's a lot to digest when your life always movin' / Architectural Digest, but I needed home improvement / Sixty-million-dollar home, never went home to it," one verse read.
"Lord I Need You"
On "Lord I Need You," West recalls a fight he apparently had with Kardashian. The lyrics reek of mistrust and seemingly subtly accuse her of having an affair.
On one verse he sayings, "When you said give me a ring, you really meant a ring, huh?/Turned out to be more than just a fling, huh? / Three hours to get back from Palm Springs, huh? / Who you know spend an hour in Walgreens, huh?
Later in the song, he seemed to address their February 2021 split. "I guess it's gone different in a different direction lately / tryna do the right thing with the freedom that you gave me."
The song didn't hold back in sharing some of the less-favorable moments of their relationship. Ye took aim at Kardashian for complaining too much in one particular verse. He rapped: "Too many complaints made it hard for me to think / Would you shut up? I can't hear myself drink."
"New Again"
With "New Again," West appears to have a conversation with a new lover, as he candidly tells them they will never compare to Kardashian. "'Cause you know you'd never live up to my ex though," West raps at one point.
It's very possible the lyric was aimed at model Irina Shayk, the first woman West was seen spending time with after his breakup. The pair reportedly dated for several months following his split from Kardashian, but the romance ultimately didn't work out. On Aug. 22, reports surfaced claiming they had called it quits.
"Love Unconditionally"
Although the demo track "Love Unconditionally," which West played at some of his listening parties, didn't end up on Donda, many fans on Twitter claimed that song was also penned with Kardashian in mind — it's also telling that on some lyrics websites, like Genius, the track is called "Losing My Family." I'm not crying, you are!
The lyrics for "Love Unconditionally" are pretty transparent. The song opens with some words from the late Donda West. "Two lessons that he passed along to his children / The first is that not matter what you never abandon your family / The second was that not matter what you love unconditionally," Donda said.
However, the track seems to not only pay homage to West's late mother but also the family he's started for himself: "I'm losing my family / I'm losing my family / I'm losing my family." In the same verse, he sings, "Writing on the wall / That thought was only / She's screaming at me / Honey, why could you leave? / Darling, how could you leave? / Come back tonight, baby / Darling, how could you leave?"
West's musings are intense, to say the least. But according to E!, Kardashian was given a heads-up about "Love Unconditionally," with a source saying, "Kanye did write a song about Kim and their marriage and Kim gave her input about it. He was respectful and gave her the heads up, and did not want to blindside her."
Donda is available on all streaming services now.
This article was originally published on