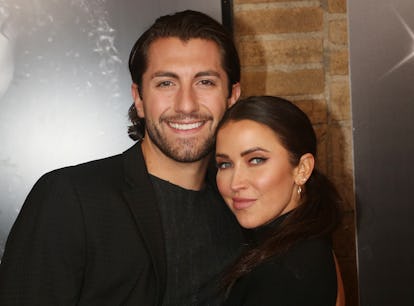 Jason Tartick Is "Trying To Barely Survive" Kaitlyn Bristowe Breakup
He called their split "the hardest grief I've ever experienced."
Bruce Glikas/WireImage/Getty Images
Kaitlyn Bristowe and Jason Tartick called it quits after four years together. Though breakup rumors have been surrounding the duo for weeks, they confirmed the split themselves on Aug. 6 with a joint Instagram post. The Bachelor Nation alums said they wanted to wait to "properly process" the breakup themselves before sharing it with the world. Since confirming the breakup rumors, Bristowe and Tartick have both opened up about how they're faring post-split, and on Aug. 22, Tartick talked about what it's like to "barely survive" after breaking off the engagement.
"I feel like the foundation that I'm on right now is like it feels like quicksand if you will, and I'm just trying to make it like beach sand where it's still hard to walk but, like, it's not sinking," Tartick explained on his Trading Secrets podcast, per Us Weekly. "I'm not trying to thrive here. You know, I am trying to barely survive here."
Tartick called the breakup "the hardest grief I've ever experienced," with "tidal waves of depression," but added that "day by day, it gets better." He explained, "It's just this back-and-forth flood of emotions. And what I'm learning is that, you know, grieving is just the whole process of honoring, respecting and having love for what was, but then also at the same time, with the same level, and if not more, honoring, respecting and having love for what is."
Bristowe shared Tartick's sentiments in an Aug. 15 episode of her Off The Vine podcast. "We're grieving a loss," she said about their split. "I think people assume that if people break up something bad happened, and I think that's the hardest part of this whole breakup is nothing bad happened. It's just been over time we have both not made each other a priority, and this is what happens."
The former couple's words echo their breakup announcement from Aug. 6. "After sharing the news with family and close friends first, and taking the time to properly process it ourselves, we are saddened with heavy hearts to share that we have decided to end our engagement," Bristowe and Tartick wrote at the time. (The couple got engaged in May 2021 after two years of dating.) "We are thankful for all of you who gave us the time and space to process this life altering decision as there are many emotions and changes to navigate."
Despite their decision to go their separate ways, it sounds like Bristowe and Tartick are keeping things civil. "Continuing our friendship is incredibly important to both of us," they wrote. "We feel grateful to be ending our engagement with love and respect for each other. It's heartbreaking and sad to say goodbye, but our care and admiration for one another will never die." Bristowe and Tartick also gave an update on their two dogs, Ramen and Pinot. "While their humans are no longer romantically involved, we will love and take care of them together," they said.
Already, Tartick has spoken about the "true blessing" of having Ramen and Pinot with him while he grieves and Bristowe travels for work. "Even though Ramen and Pinot are animals and pets, they're best friends to me, and just having them with me has been amazing," he said on Trading Secrets on Aug. 22.
It's clear that Tartick and Bristowe are trying to keep things amicable. Their breakup statement continued, "We are beyond thankful for the memories made together, and for your support of us and the boys throughout the years. Moving forward we will always have that level of support for each other. We don't know what the future holds so please try to hold space for us in your hearts."
Both Bristowe and Tartick followed up their posts with individual IG Stories. "If everyone can say some sort of prayer for both of our hearts we would love that. I just know social media can be awful so taking a little break," Bristowe wrote before changing her IG bio to: "BRB. Healing."
Tartick shared his own message to both Bristowe and his followers: "I will be forever grateful for this beautiful person that was brought into my life," he wrote alongside a photo of the two of them. "Beyond heart broken," he added. "Please be kind as we go through our individual journeys to heal."
This article was originally published on